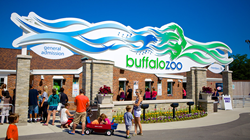 Buffalo, NY (PRWEB) January 19, 2017
The Buffalo Zoo partnered with InVue Digital to build a new website that provides visitors with information about the Zoo and an incredible learning experience.
The cleaner, more attractive design is focused on enhanced user experience, site navigation, and mobile functionality. The content is informative and educational, and easy for visitors of all ages to navigate and explore.
"My daughter was reading about the different animals for over an hour. FYI – thanks to you I think I'm now obligated to get her a black-capped squirrel monkey," said a parent of a Zoo visitor.
The website includes more than 150 animal profile pages, a full events calendar, online membership and donation portals, 20 experience pages, visitor information and more.
"Working closely with the Buffalo Zoo has been both a productive and extremely fun partnership. Emphasizing the conservation mission, while also capturing the fun and energy of the Zoo was a challenge we loved bringing online. We look forward to our continued partnership and big things to come from InVue and the Buffalo Zoo, in the very near future," said InVue Digital's Director of Operations Paul Bourque.
InVue Digital is headquartered in Buffalo, NY, specifically Larkinville. They emphasize a user-centric approach with a focus on conversions/customer growth. This methodology has quickly been realized by the Zoo.
In addition to the improved user experience, transaction processing for memberships and education programs will be improved and more efficient. One of the next add-ons will be admission ticket purchasing by April of this year.
"We are ecstatic about the new website, which was a long time coming. Our former site was dated both aesthetically and functionally, often considered the worst of the cultural institutions in Buffalo," said the Zoo's Director of Marketing Todd Geise. "With InVue's creative help and patience, we are confident that we now have one of the best. The site is easy to navigate and focuses on rich and engaging content and valuable information to advance our conservation education mission."
The Buffalo Zoo is a fun, safe place for the whole family to enjoy all year round. Browse the brand-new site at https://buffalozoo.org/ before planning a visit.
About The Buffalo Zoo
The Buffalo Zoo is the third oldest zoo in the nation and home to some of the world's most exotic and endangered local wildlife. Established in 1875, the Zoo is an educational resource and recreational attraction for the Western New York community. The Buffalo Zoo's goal is to increase awareness of the importance of conservation through exhibition of diverse species of mammals, birds, reptiles, amphibians and fish in ecological enclosures and geographical conditions that represent their natural habitats. The Buffalo Zoo is open daily; visit the new website for more information.