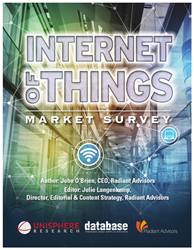 Today, there are more things connected to the Internet than people on the planet.
New Providence, NJ (PRWEB) January 19, 2017
Unisphere Research and Radiant Advisors today announced the publication of a brand new study on IoT adoption and maturity. By surveying both current and potential users in the marketplace, the study documents the key perceptions, practices, challenges and success factors in IoT adoption and usage.
"Today, there are more things connected to the Internet than people on the planet," remarked Thomas Hogan, publisher of Unisphere Research and Database Trends and Applications. "The Internet of Things represents a huge challenge and opportunity for businesses. This study shows that many are already taking the journey and best practices are now emerging."
"The Internet of Things has been engaging our imaginations with thoughts of a connected, intelligent world around us and drives people and organizations to learn, explore and adopt IoT in their respective industries," said John O'Brien, Principal Analyst and CEO of Radiant Advisors. "With this survey, we wanted to research what motivates companies to embrace IoT and asses the degree of maturity in that journey. This survey sheds light on how and why companies turn to IoT, looks at common challenges and needs and hints at what the future will look like."
"The Internet of Things is the next biggest opportunity for business to drive new revenues and innovation," commented Carole Murphy, Global Product Marketing at HPE Security–Data Security. "At the same time, this study shows that 78% of buyer-side respondents realize that a lack of data security will impact their IoT progress. Our view is that a data-centric approach to IoT security and data privacy is a key strategy to help enable business to realize their IoT objectives. We're delighted to sponsor this important new study and report."
"The staggering acceleration of the variety and multitude of IoT endpoints will bring about enormous challenges to traditional IT systems," said Jack Norris, SVP of Data and Applications at MapR Technologies. "This survey provides some great insights into both the challenges and opportunities of this exciting technology sector. We have seen converging requirements of capturing, transporting, persisting, and analyzing this new data that will force an evolution of IT platforms that can operate at this scale and speed."
This Unisphere Research report was sponsored by industry-leaders HPE Security–Data Security and MapR Technologies.
To download a complimentary copy, click here.
About Unisphere
Unisphere Research, a division of Information Today, Inc. (ITI), is a market research company that conducts proprietary and custom research projects in conjunction with the top data management and IT user groups, as well as with other leading-industry communities. Unisphere has pioneered user group-based research and has built its editorial products in conjunction with its user community-based market insight. Visit http://www.unisphereresearch.com or follow @DBTrends.
About Radiant Advisors
Radiant Advisors is a leading strategic research and advisory firm that delivers innovative, cutting-edge research and thought-leadership to transform today's organizations into tomorrow's data-driven industry leaders. Visit http://www.RadiantAdvisors.com or follow @RadiantAdvisors.
About HPE Security–Data Security
HPE Security–Data Security drives leadership in data-centric security and encryption solutions. With over 80 patents and 51 years of expertise we protect the world's largest brands and neutralize breach impact by securing sensitive data-at-rest, in-use and in-motion. Our solutions provide advanced encryption, tokenization and key management that protect sensitive data across enterprise applications, data processing IT, cloud, payments ecosystems, mission critical transactions, storage, and big data platforms. HPE Security–Data Security solves one of the industry's biggest challenges: simplifying the protection of sensitive data in even the most complex use cases. Visit http://www.voltage.com or follow @HPE_Voltage.
About MapR Technologies
MapR enables organizations to create disruptive advantage and long-term value from their data with the industry's only Converged Data Platform, which delivers distributed processing, real-time analytics, and enterprise-grade requirements across cloud and on-premise environments–while leveraging the significant ongoing development in open source technologies including Spark and Hadoop. Visit at http://www.mapr.com or follow @MapR.