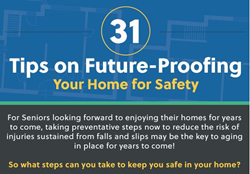 A senior is hospitalized in the U.S. every 17 seconds because of a fall.
Colonial Heights, VA (PRWEB) January 19, 2017
According to AARP, nearly 90 percent of today's seniors prefer to "age in place" and live independently in their homes rather than relocate to specialized housing.
However, seniors and their loved ones should know that the Centers for Disease Control (CDC) reports falls and trip hazards continue to present very real dangers around the home, causing nearly 3 million injuries and even 27,000 deaths each year.
Additionally, …

A senior is hospitalized in the U.S. every 17 seconds because of a fall.
One-in-3 adults who fall incur moderate to severe injuries.
Eighty percent of senior falls happen because of slippery surfaces and slick floors.
Most troubling of all is the fact that most of these accidents could be easily prevented by taking some easy, precautionary steps.
That is why Easy Climber created 31 Tips For Future Proofing Your Home, a handy, easy-to-read infographic detailing nearly three dozen common-sense steps seniors can to take to help mitigate risks in the home and ensure long-term, independent living.
31 Tips For Future Proofing Your Home offers a wealth of safety tips – big and small – to help seniors recognize – and reduce – overlooked hazards around the house. Suggestions run the gamut from simple recommendations like eliminating rugs and installing brighter LED bulbs to making more advanced investments such as installing motorized stair lifts and elevators to reduce the dangers that staircases present.
The infographic also includes a variety of non-fall-related guidelines as well. For instance, did you know you can greatly reduce dangers in the kitchen by installing motion detectors that will automatically shut down overlooked stove tops and unused burners? Similarly, regularly putting fresh batteries in smoke detectors and investing in a fire extinguisher are two inexpensive ways to keep kitchens safe.
See the full list of Easy Climber's tips here.
Failing to adequately age-proof a home can result in even the most independent-minded senior becoming dependent on loved ones or healthcare providers. By proactively making some simple changes around the home, it can help ensure you can age in place in peace.
About Easy Climber
Easy Climber Stair Lifts and Home Elevators are provided by one of the nation's largest home improvement companies, Aging in the Home Remodelers, Inc., an organization devoted to supporting independent living for seniors.
Sources:
http://www.aarp.org/livable-communities/info-2014/livable-communities-facts-and-figures.html https://www.cdc.gov/homeandrecreationalsafety/falls/adultfalls.html