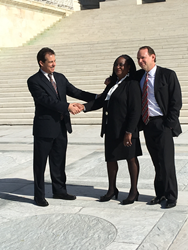 Helmer Friedman LLP is beyond thrilled at today's resounding victory on behalf of our clients Beverly Hollis-Arrington and Crystal Lightfoot against Fannie Mae.
Los Angeles, California (PRWEB) January 18, 2017
This morning, in a unanimous opinion authored by Justice Sotomayor, the U. S. Supreme Court sided with Helmer Friedman LLP's clients Crystal Monique Lightfoot and Beverly Hollis-Arrington and held that Fannie Mae's sue-and-be-sued clause does not grant district courts jurisdiction over cases involving Fannie Mae. The Supreme Court reversed the Ninth Circuit which had ruled against Ms. Lightfoot and Ms. Hollis-Arrington. The case is entitled Lightfoot et. al. v. Cendant Mortgage Corp., DBA PHH Mortgage, et. al. and has case number No. 14–1055.
"This decision is a complete vindication for our clients who have argued for more than a decade that their lawsuit against Fannie Mae should be heard in the California state courts and not in federal court," commented Andrew H. Friedman of Los Angeles-based Helmer Friedman LLP.
"This decision will have implications extending well beyond cases involving foreclosures. It will affect every type of lawsuit that could be brought against Fannie Mae and certain other federally chartered entities by giving the plaintiffs the right to sue in state court. For example, if any of the thousands of employees of Fannie Mae wish to sue that entity for any type of state law employment claims, they can now do so in state court."
Helmer Friedman LLP, a boutique consumer-rights law firm, represents Crystal Monique Lightfoot and her mother, Beverly Hollis-Arrington, in a California lawsuit seeking to recover damages against Fannie Mae and others for unlawfully foreclosing on their home in Los Angeles, California.
The opinion can be located at: https://www.supremecourt.gov/opinions/16pdf/14-1055_6j36.pdf