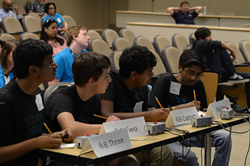 "We are pleased to once again play a key role in building Arizona's STEM workforce. What we are doing is sowing the seeds for future generations." -Shashi Jasthi, President and CEO of Solugenix Corporation
PHOENIX, AZ (PRWEB) January 20, 2017
What does it take to change the future STEM workforce in Arizona? Answer: One university campus, two days, forty educators and over eighty volunteers from the Arizona tech industry. The Arizona Science Bowl relies on these participants and more to further the cause of building a world-class STEM workforce in Arizona.
This year marks the 11th Annual Arizona Regional Science Bowl—the only math and science competition of its kind. Through this event, local community members further the cause of developing a world-class STEM workforce in Arizona. On January 28th, High School students from throughout the State of Arizona will convene to compete at the ASU West Campus.
4701 West Thunderbird Road
Glendale, AZ 85306, starting at 9 a.m.
It will be followed by a second event on February 4th for Middle School students.
Thirty-two teams of high school students representing 20 schools from throughout Arizona will test their knowledge of science and compete for the first place prize and a free trip to the National Science Bowl in Washington, DC, April 27 through May 1, 2017. The regional and national events encourage student involvement in math and science, provide an awareness of future career options in STEM, and deliver a venue for exercising their achievements.
The Arizona Science Bowl is sponsored and organized by Solugenix Corporation, in coordination with the Arizona Technology Council Foundation. The event is also supported by the ASU New College School of Mathematical and Natural Sciences.
"We are pleased to once again play a key role in building Arizona's STEM workforce. What we are doing is sowing the seeds for future generations." Shashi Jasthi, President and CEO of Solugenix Corporation.
The public is invited to watch the competition and support the teams. Admission is free.
About Solugenix Corporation
Solugenix Corporation is a trusted IT services partner delivering solutions since 1969. The company's diverse service offerings include Application Lifecycle Management, Contact Center Services, and Professional Staffing. Solugenix has offices in the United States (Brea, Calif., West Covina, Calif., Scottsdale, Ariz., and Chattanooga, Tenn.), and India (Hyderabad and Bangalore). For more information, visit solugenix.com or call 866-749-7658. Twitter: @solugenix LinkedIn: linkedin.com/company/solugenix
About Arizona Technology Foundation
The Arizona Technology Council Foundation is dedicated to supporting STEM education (mostly informal experiences) by carrying out projects, programs, fairs, bowls and festivals that focus on STEM. The purpose of this support is to motivate students to seek educational and career paths in STEM-related fields. Visit aztechcouncil.org to learn more.
About ASU New College
The New College of Interdisciplinary Arts and Sciences at Arizona State University's vibrant West campus focuses on a personalized learning experience and on the complex and unique ways that different fields of study interact and affect one another to better prepare students for the future. Visit newcollege.asu.edu to learn more