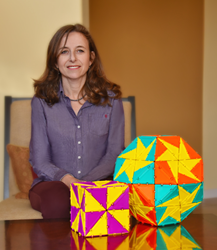 Mohanty's approach to repair math's bad reputation is to show how enjoyable learning math can be.
San Diego, CA (PRWEB) January 19, 2017
iMathgination LLC, a San Diego-based educational company, announces the official launch of Geometiles®, a fun, yet sophisticated tool that aims to spark an interest and lifelong love of math in kids in grades one through 12.
Geometiles, created by Yana Mohanty, Ph.D., a former mathematics instructor at the University of California, math coach and mother, is a versatile set of interlocking tiles which helps children discover mathematical concepts through hands-on exploration and play.
With a variety of colorful triangles, squares, rectangles, and pentagons, kids can develop several skills at a time, from fractions to volume to the Pythagorean theorem. Furthermore, the tiles are carefully designed to help enhance fine motor abilities and hand-eye coordination.
Even when not directly studying or exploring geometry, kids can use Geometiles to create 2D and 3D shapes, and let their imagination run wild.
Over the course of her career, Mohanty constantly hears how some students "just hate math" or "aren't talented in STEM." "I thought that maybe it is not kids, but rather adults that struggle with getting children excited and confident about learning," said Mohanty. This sparked an idea for a tool showing that math isn't just for a selected few prodigies; math is for everyone.
"Too many kids grow up having no math literacy, which limits both their life choices and their competence to handle everyday financial affairs," said Mohanty. "Many people are almost proud of being bad at math. But no one I know says 'I'm bad at reading' and just gives up on it. School-level math, like reading or sports, is about practicing and improving one's skills, not being a genius."
Mohanty's approach to repair math's bad reputation is to show how enjoyable learning math can be. The idea behind Geometiles is to give kids a tool that makes them so caught up in the discovery process while playing, that they won't even realize they are doing "work" learning math.
To empower parents who may need a math refresher themselves, Mohanty created a resource library structured in order of increasing difficulty.
The purchase of Geometiles gives the user an unlimited access to this resource filled with hundreds of problems, downloadable workbooks, instruction manuals and lesson plans that meet Common Core standards in mathematics.
"The library enables teachers to quickly incorporate Geometiles into their math curriculum, explore basic concepts or offer a challenge well-matched to any skill level," said Mohanty. "Parents will find the resources helpful for supplementing classroom activities or homeschooling."
Geometiles are already being used for creative fun, learning and team building in several classrooms across California.
A firm believer in the potential of every child, Mohanty enlisted a diverse group of kids with different socio-economic backgrounds and varying math skills to help her create and test the tiles. The final product has been carefully designed by a team of three engineers led by Mohanty whose unique experience includes a career in engineering before completing her Ph.D. in mathematics.
Geometiles are wholly made in the United States using safe, durable materials without phthalates, lead or toxic paint.
Geometiles come in three different 32-piece Mini Sets (retail price: $30), a 96-piece Full Set ($85) and a 512-piece Jumbo Set ($385).
To learn more and to purchase Geometiles, visit http://www.geometiles.com