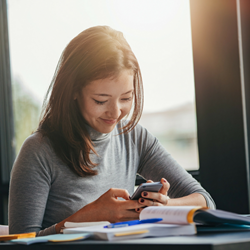 "Students are increasingly making school decisions online."--Ajay Pattani, CEO & Founder of Perfect Search Media
Chicago, Illinois (PRWEB) January 19, 2017
Perfect Search Media is excited to announce its commitment to digital marketing for higher education institutions. With its research and experience in higher education marketing, Perfect Search has crafted a unique digital marketing strategy that's at the forefront of the education industry.
As one of Chicago's leading full-service digital marketing agencies, Perfect Search partners with higher education institutions around the country to help achieve their student recruitment goals.
While Perfect Search continues to work with enterprise companies, e-commerce businesses, startups and more, the agency has worked on developing an education-industry specific process. The Perfect Search team has perfected this process on clients like Columbia University, the New York Code + Design Academy, and Epicodus.
"In recent years, students are increasingly making school decisions online. Since more than half of all prospective students use their phone to look for a school, we realized that we could help educational institutions reach students with digital marketing strategies. By putting our expertise to work, we've seen great success with our education clients," states Ajay Pattani, Founder & CEO of Perfect Search Media.
Perfect Search offers Paid Search, Social Media Advertising, SEO, A/B Testing, Content, and Design services for traditional universities, continuing education organizations, online schools, and all educational institutions in between. The Perfect Search team ensures that these services help clients reach student recruitment goals.
For example, Columbia University wanted to decrease their cost per lead. Thanks to Perfect Search's paid search expertise, their cost per lead decreased by 30% during the span of just one quarter.
"Thanks to Perfect Search, our brand's presence has greatly expanded—and this expansion has come with a positive ROI. From testing new channel strategies on Google, Facebook, and Bing to launching an extensive remarketing campaign, Perfect Search has been a driving force of our success. They truly understand the importance of strong client relationships. Whether it's about customizing a report or becoming a source of technical knowledge, Perfect Search is there for us," says Mary-Lea Awanohara, Director of Marketing & Communications at the Columbia University School of Social Work.
What makes Perfect Search stand out is how the agency doesn't just bring traffic and qualified leads. The team crafts custom strategies to track students' journeys from their first click to enrollment.
Perfect Search's specialized experience with digital marketing for education has established the agency as a leader in the industry. As the higher education vertical changes, Perfect Search is ready to adapt and grow along with it.