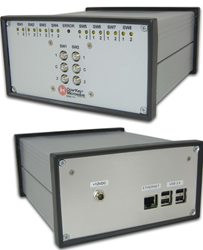 We are excited to present our newest product generation of the Reliant Switch™: a high-performance multi-position switch which covers the typical 6 GHz test range and beyond for high-speed testing
Ventura, California (PRWEB) January 20, 2017
The final configuration of the high-performance Reliant Switch™ is now available for deliveries beginning February 2017. With 50-ohm 2W terminated ports and an operating frequency from DC to 26.5 GHz, this switch is designed with a high isolation of 100 dB (up to 12.4 GHz) and guaranteed insertion loss repeatability of 0.03 dB across the entire frequency band. It is offered with latching actuators, SMA connectors, optical position indicators and an operating life of 5 million life cycles and is available with and without TTL circuit options.
Also, available from the Reliant Switch™ product series is an SPDT and SPDT terminated coaxial switch. Both switches operate from DC to 26.5 GHz, sustaining insertion loss repeatability of 0.03 dB across the entire frequency band. They are offered with an extended operating life of 10 million life cycles, latching actuators, optical position indicators, SMA connectors and TTL circuit options.
"We are excited to present our newest product generation of the Reliant Switch™: a high-performance multi-position switch which covers the typical 6 GHz test range and beyond for high-speed testing," said Nicole Rorick, Dow-Key's Marketing Coordinator. "In addition, the Reliant Switch™ design is also utilized in the Miniature MS-Series Matrix to support extensive testing and measurement requirements."
For more information, please visit Dow-Key® Microwave at https://www.dowkey.com/solutions/reliant-switch/
About Dow-Key® Microwave Corporation
As the world's largest manufacturer of electromechanical switches, Dow-Key® Microwave Corporation is committed to providing unparalleled customer service, competitive pricing, on-time delivery and products that are distinguished by quality and reliability. Founded in 1945, Dow-Key® is the oldest continuously operating switch manufacturer in the United States. Today, the company is part of the Microwave Products Group, a subsidiary of Dover Corporation. Dover is a multi-billion dollar, diversified manufacturer of a wide range of proprietary electronic components and systems.
Excess Inventory Available for Immediate Delivery! Contact us today at 805.650.0260 or email at askdk(at)dowkey(dot)com
Dow-Key Microwave |http://www.Dowkey.com | 805.650.0260