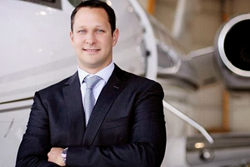 This is a very important day for our country, and our company. We're proud to have brokered the flights for a number of inauguration attendees.
Orlando, Florida (PRWEB) January 19, 2017
A decade after forming with the goal of raising the bar in jet charter safety, education and travel experiences, Stratos Jet Charters Inc., is proud to be celebrating its 10th anniversary—and with some pretty high profile clients about to set off for the inauguration ceremony of President-elect Donald Trump.
"This is a very important day for our country and our company," says Joel Thomas, President and CEO, Stratos Jet Charters. Inc. "We're proud to have brokered the flights for a number of inauguration attendees, including state governors, SBA leaders, musical entertainers, union officials and Fortune 500 CEO's."
Stratos, a North American leader in the private jet charter industry, was founded in 2006 with a weighty vision that would eventually influence the entire industry: Harness our aircraft knowledge and our highest standards of air carrier safety to help travellers make educated decisions and expand their margin of safety.
"That vision has carried us through several major market changes over the years," says Thomas. "Right now the jet charter business is on an upswing. We're seeing more frequent executive travel to greater distances because CEO's can't afford to lose entire days to airport line-ups, and performers just don't want to."
Stratos, which has chartered jets for travel across every continent (save for Antarctica), says that process—and their dedication to honest advice and the client's best interest—has created the relationships that have fuelled the company's growth over the last decade.
"We have incredible relationships with our clients. In fact, our very first client still flies with us, and we have many clients we've been helping for eight and nine years," says Thomas, adding it's also the industry relationships that have been critical to helping Stratos expand coverage and keep its commitment to exceeding expectations.
"We only work with best of best aircraft carriers, and we have very strong relationships with every business aviation market around the world."
The other relationship that's been key to the company's success is the one with Stratos's outstanding team members—from jet charter agents and accounting personnel to front desk and trip support.
"We've established a culture where everyone recognizes they're not just working for Stratos. They're working for something bigger than themselves," says Thomas. "Our culture really empowers them to fulfill and take ownership of their role, and count on one another."
In addition to expanding its team and coverage area, over the years, Stratos has achieved numerous milestones, including:
2007 - Launched "Off-set Your Jet – a program to allow clients to offset their carbon footprint.
2009 – Launched the first air carrier due diligence program of its kind, which goes beyond reactive safety checks to proactively evaluate carriers for a sweeping range of factors.
2010 – Invited to join the Air Charters Association of North America (ACANA), an industry-leading organization for ethics and best practices.
2011 – President and CEO Joel Thomas is elected president of ACANA, and goes on to serve multiple terms on the board, including chairman in 2015.
2011 – Acquired Air Charter Access, a small air charter brokerage with a similar mission and vision. The acquisition allowed Stratos to expand client base by 30 per cent. This same year, Stratos became one of the first proud Wyvern brokers.
2012 – One of the first private jet charter companies to be a part of the Air Charter Safety Foundation's broker program.
2014 – Became one of the country's first ARGUS certified jet charter broke r after an on-site audit that reviewed company history, flights, training program, insurances, organizational structure and adherence to best practices DOT mandates. This year Joel Thomas was also an honoured guest speaker at the Air Charter Safety Foundation's symposium, where he spoke on how and why jet charter service brokers can expand customers' margin of safety.
Looking back on a decade of 'firsts,' Thomas says he is humbled and proud to be celebrating Stratos's 10th anniversary.
"I've been reflecting on this milestone, and I keep returning to a quote I read once about how notable winners face heartbreaking obstacles and setbacks, but they triumph because they refused to be discouraged by defeats. Over the last 10 years, there have been constant obstacles and challenges, and I've very proud to have a supportive team that's believed in me and helped us overcome those challenges," says Thomas.
"What we've done as a company is raised the bar and created a standard of excellence so our customers can soar higher, and over the next 10 years, we'll continue to lead the industry in innovation and the highest quality customer experiences."
ABOUT STRATOS JET CHARTERS INC.
Based in Orlando, FL, Stratos Jet Charters Inc. has been providing private jet broker services across the United States and around the world since 2006. In that time, Stratos has developed a reputation for outstanding service and safety. With the strictest aircraft vendor standards in the industry, a trip support department, membership privileges and the resources and expertise to handle the most challenging itineraries, Stratos has become one of the most trusted jet charter brokers in North America. To learn more, visit http://www.stratosjets.com.
For more information, please contact:
Joel Thomas
President and CEO, Stratos Jet Charters
888.478.7286 (o)
joel(at)stratosjets(dot)com