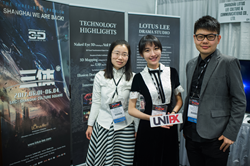 Lotus Lee Drama Studio Announces U.S. Office, New Production
New York (PRWEB) January 20, 2017
The world is watching Chinese-U.S. relations on the eve of a Donald Trump presidency. Following Trump's recent meeting with Alibaba founder Jack Ma, extended Sino-U.S. cultural exchanges and the rise of Chinese tech companies like Huawei and Xiaomi, one Chinese drama studio is hoping to build on global cultural exchanges by introducing its groundbreaking high tech theater experiences to U.S. audiences.
Lotus Lee Drama Company, famous in China for producing a high-tech, 3D stage performance of the award-winning science fiction novel The Three-Body Problem by Liu Cixin, recently opened a branch in the U.S. The new branch, located in the New York coworking space WeWork Chelsea, will allow the company to build their intercultural relationships and work on overseas market expansion, artistic innovation and culture and technology exchange with industry colleagues.
Their goal is to help shape international performing arts with the infusion of groundbreaking technologies for stage, including virtual reality, naked eye 3D, drone, variable stage devices and more.
The U.S. office of Lotus Lee is led by executive creative director Muso Zhe Fan. Fan graduated from Columbia University, where he won an international design competition award, led a team that developed virtual reality games and a virtual augmented reality iOS app, and produced variable stage devices with transformable design. He also attended the Massachusetts Institute of Technology's digital media lab and was invited to attend Google's Project Tango for creative application development.
"Our American outreach, led by the exciting young talent Muso Zhe Fan, represents a major step in the expanding Sino-U.S. cultural exchanges and allows us to introduce a large number of advanced dramatical experiences and technologies to our U.S. performing arts colleagues and audiences," said Lotus Lee, president of Lotus Lee Drama Company. "We are thrilled to be able to continue to build meaningful relationships with American collaborators for the enrichment of international theater."
In addition to opening a U.S. office, Lotus Lee is working on a follow-up to their high-tech 3D stage experience, The Three-Body Problem Drama. Slated to premiere in 2018, The Three Body Drama Problem II: The Dark Forest will be produced by an international visual effect team working in the U.S. in collaboration with Platige Image Studio and distinguished set designer George Tsypin.
"The Lotus Lee Drama Company team will realize an unprecedented visual feast and bring into the domestic theatre market a groundbreaking experience in The Three-Body Problem II," Lee said. "With our new multimedia stage play, we will introduce the world's top design and technical teams to create a higher texture of science fiction for stage, with thrilling interactive components to engage audiences."
About Lotus Lee Drama Company
Founded in 2015, Lotus Lee Drama Company specializes in stage drama planning, investment, production, performance and branding. A pioneer in China's drama industry, Lotus Lee Drama Company cooperates with famous derivative development companies to develop derivatives for the stage. Following the success of the premiere of The Three-Body Problem Drama in June in Shanghai, the company is preparing to produce additional stage dramas, including The Three-Body Problem Ⅱ, Lotus and other customized stage dramas for game companies like Legend, League of Angels and One Thousand and One Nights. For more information about Lotus Lee Drama Studio, go to http://www.lotus-lee.com.