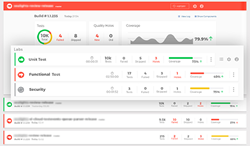 "We're excited that SeaLights has received a 2017 Devies Award for Testing. There are some great testing companies out there so we are honored to be recognized as a standout solution introducing a totally new category, Continuous Testing." Eran Sher, CEO
San Francisco, CA (PRWEB) January 19, 2017
SeaLights, the first cloud-based, Continuous Testing Platform that helps companies increase their code quality while increasing their release speed, picked up a 2017 Devies Award for best in the category: App Analytics / Testing. Out of hundreds of nominations, the DeveloperWeek Advisory Board selected the SeaLights Continuous Testing Platform as best in breed.
"We're very excited that SeaLights has received a 2017 Devies Award for the category: App Analytics / Testing. There are some great testing companies out there so we are honored to be recognized as a standout solution introducing a totally new category of testing, Continuous Testing," said Eran Sher. Cofounder & CEO of SeaLights. It's no secret that 2017 will be the year of Continuous Testing. Practically every leader in DevOps and Testing has put Continuous Testing on the map as a top topic of interest in DevOps. Testing has become the major hurdle preventing companies from achieving high quality in rapid releases. The SeaLights Continuous Testing Platform solves this problem by uncovering and demystifying quality metrics critical to development, QA, and DevOps teams optimizing speed and quality in a world of fast releases, incremental changes, and short QA cycles.
"SeaLights is a great example of how more and more of the new wave of developer technologies that are empowering developers to build more powerful and more scalable apps faster than ever," Said Geoff Domoracki, founder of DeveloperWeek.
SeaLights will be both exhibiting at booth 214 at DevelopersWeek and showcasing how their Continuous Testing Platform has helped companies move past activity metrics to quality metrics and Continuous Testing. Want to meet them there? Book a meeting here.
About SeaLights:
SeaLights is the first cloud based continuous testing platform. Helping companies increase their code quality while increasing release speed. To learn more about SeaLights or sign up for early access, please visit http://www.sealights.io/
About the 2017 Devies Awards:
The 2017 Devies Awards are taking place during the DeveloperWeek 2017 Conference & Expo the world's largest developer conference & expo with 8,000 attendees.
Contact Details:
Moran Halevi | Digital Marketing Manager
moran(at)sealights(dot)io | +972.52.843.1154