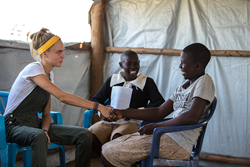 When it comes to the refugee crisis, we can't turn away. Seeing the statistics is important, but meeting and talking with the girls is another thing entirely.
Washington, DC (PRWEB) January 19, 2017
British model and actress, Cara Delevingne joined Girl Up, the United Nations Foundation's adolescent girl campaign, this past week on a learning trip to Uganda in support of its partnership with UNHCR, the UN Refugee Agency. Delevingne met with refugees and visited refugee entry points and settlements throughout the region to learn more about UNHCR's response to the South Sudanese refugee crisis and its educational programming for refugee girls.
"As a Girl Up Champion, I'm proud to bring awareness to their partnership with UNHCR supporting education for refugee girls," said Delevingne. "When it comes to the refugee crisis, we can't turn away. Seeing the statistics is important, but meeting and talking with the girls is another thing entirely. We can't let the rest of the world be ignorant on the problem. We need to tell people what's going on and how they can help."
More than 460,000 refugees have arrived in Uganda from South Sudan since July 2016, at the rate of more than 2,000 per day. Within 24 hours of crossing the border, UNHCR provides refugees with a hot meal, medical assistance, and transport to a settlement to begin rebuilding their lives again. On the learning trip, Delevingne talked with refugee girls and saw the impact of Girl Up's partnership with UNHCR, which fundraised to help provide 4,414 girls with the uniform, textbooks, and supplies to go to school for a year.
"We're so grateful to Cara for using her voice to show the world the magnitude of the refugee crisis in Uganda, and for helping Girl Up build our by girls, for girls movement around the world," said Anna Blue, Deputy Director of Girl Up.
For girls in Uganda, education is protection. Among refugee populations, girls who are out of school are the most vulnerable to sexual violence, child labor, and child marriage. While more than 60% of refugee children in northern Uganda attend primary school, the number is just 5% for secondary school, with many girls dropping out even earlier due to family pressure to marry early or help at home. To learn more about how to support Girl Up's partnership with UNHCR for refugee girls' education, visit girlup.org/CaraInUganda.
###
About Cara Delevingne
Cara Delevingne is one of the most recognizable faces in the world.  In addition to her huge successes in fashion, she has a burgeoning and exciting acting career. She is also an influential voice in the world of social media, amassing over 35 million followers to her Instagram.
In 2012, Delevingne made her film debut in Joe Wright's "Anna Karenina" alongside Keira Knightley.
Most recently she was featured in DC Comics' "Suicide Squad" and will star in Luc Besson's "Valérian and the City of a Thousand Planets" set to be released in 2017.
Previously, Delevingne can be seen in "Paper Towns" opposite Nat Wolff, Michael Winterbottom's "The Face of an Angel", which premiered at the Toronto Film Festival last September, starring Kate Beckinsale and Daniel Bruhl, Joe Wright's "Pan" starring Hugh Jackman, Amanda Seyfried, Rooney Mara and Garrett Hedland, " Suicide Squad" alongside Will Smith, Margot Robbie, Ben Affleck. With her true British style, classic beauty and inimitable attitude, Cara's rise has been meteoric.  She has been the face of Burberry advertising for several seasons, working with Mario Testino, and starring with actor Eddie Redmayne, Jourdan Dunn and Edie Campbell.
Her personal interests include music – Cara is an aspiring musician and she also has a passion for yoga and meditation.
About Girl Up
Girl Up, the United Nations Foundation's adolescent girl campaign, supports the empowerment of girls everywhere.  Since its launch in 2010, the campaign has funded UN programs that promote the health, safety, education, and leadership of girls in developing countries and built a community of nearly half a million passionate advocates – including Girl Up Global Advocates Her Majesty Queen Rania Al Abdullah of Jordan and Latin American business leader Angélica Fuentes.
Our youth leaders, representing more than 1400 Girl Up Clubs in 85 countries, stand up, speak up, and rise up to support the hardest to reach girls living in places where it is hardest to be a girl.
Learn more at GirlUp.org.
About the United Nations Foundation
The United Nations Foundation builds public-private partnerships to address the world's most pressing problems, and broadens support for the United Nations through advocacy and public outreach. Through innovative campaigns and initiatives, the Foundation connects people, ideas, and resources to help the UN solve global problems. The Foundation was created in 1998 as a U.S. public charity by entrepreneur and philanthropist Ted Turner and now is supported by philanthropic, corporate, government, and individual donors. Learn more at: http://www.unfoundation.org.
About UNHCR
About the UN Refugee Agency (UNHCR): The Office of the United Nations High Commissioner for Refugees was established on December 14, 1950 by the United Nations General Assembly. The agency is mandated to lead and co-ordinate international action to protect refugees and resolve refugee problems worldwide. Its primary purpose is to safeguard the rights and well-being of refugees. It strives to ensure that everyone can exercise the right to seek asylum and find safe refuge in another State, with the option to return home voluntarily, integrate locally or to resettle in a third country. It also has a mandate to help stateless people. In more than six decades, the agency has helped tens of millions of people restart their lives. Today, a staff of some 7,190 people in more than 120 countries continues to help some 36.4 million persons.