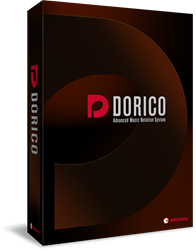 "Putting this first release into the hands of musicians worldwide is a huge moment for our team, and it's only the beginning," said Steinberg's Product Marketing Manager, Daniel Spreadbury.
ANAHEIM (PRWEB) January 20, 2017
Steinberg Media Technologies GmbH today showcased its highly anticipated score writer software, Dorico.
The electronic press kit for Dorico is available at: http://4wrd.it/DORICO
Four years in the making, the first iteration of Dorico is about to be released. Presenting both aspiring and professional composers, arrangers, music publishers and music teachers with the next-generation music notation software solution, Dorico has been designed by a team of specialized developers and experts to be used by those who consider writing and engraving music their true calling.
Dorico offers an uncluttered single-window user interface for both laptops and studio machines, comprising high-performance tools and versatile page layout options that facilitate an efficient workflow. The graphical output gives attention to the finest intricacies of music engraving, fulfilling the aesthetic demands of the most discerning engravers and publishers. Built from the ground up, Dorico takes advantage of 64-bit multi-core processors to ensure seamless scrolling through the music at all times, and it has been designed with high-pixel density, high-resolution displays in mind. Based on Steinberg's award-winning audio engine, Dorico comes with a host of sumptuous VST instruments and effects, making it not only look and feel good, but sound great as well.
Anthony Hughes, UI/UX designer for Dorico, said, "Music is at the heart of our design philosophy for Dorico. We wanted to build something new and powerful for musicians everywhere that has an inherent musical awareness, is intelligently organized and adapts to your personal preferences. We are extremely excited to be making Dorico available and to see what people create with it."
Steinberg's Product Marketing Manager, Daniel Spreadbury, commented: "Putting this first release into the hands of musicians worldwide is a huge moment for our team, and it's only the beginning. Dorico is already remarkably capable, and we will continue to build on its foundations to make it better and better."
"I'm immensely proud of what our fantastic team has accomplished in creating Dorico. We've seized the opportunity to reimagine how notation software should work in the 21st century and the results you can achieve in the first release of Dorico are truly amazing," said Ben Timms, head of UK R&D for Dorico.
Visit http://www.steinberg.net/dorico for details on Dorico.
Availability and pricing
Dorico is now available from resellers and through the Steinberg Online Shop. Retail price is $739.99 (MSRP).
Dorico is also offering educational pricing for qualifying teachers and students, as well as a special limited-time crossgrade offer for qualifying Sibelius, Finale and Notion users.
Features at a glance

Next-generation 64-bit scoring software for OS X and Windows, designed by musicians for musicians
Beautiful engraved output with unrivaled attention to detail
Flexible note input and powerful editing, including ability to insert and change duration of existing notes
Streamlined, single-window interface puts every tool at your fingertips
Powerful score management features to handle multiple independent pieces of music within the same project
Unlimited number of staves and movements, sections or pieces within the same project
Easily create layouts for full scores and instrumental parts with independent page size, staff size and system layout
Use your computer keyboard or MIDI keyboard to input music quickly and efficiently
Superior note spacing with optical kerning of adjacent elements, with tighter default spacing and no rhythmic distortion
Import and export in MusicXML, MIDI and graphics formats
Award-winning 32-bit floating-point Steinberg audio engine with flexible routing for virtual instrument and effect playback
Compatible with VST 3 virtual instruments and effects processors
Outstanding virtual instruments with more than 1,500 sounds, including HALion Sonic SE 2 workstation and complete HALion Symphonic Orchestra library
Suite of high-end VST effect processors, including channel strip modules (compressor, EQ, limiter) and convolution reverb
Press contact
Stefan Trowbridge
Public Relations Manager
Steinberg Media Technologies GmbH
E-mail: press(at)steinberg(dot)net
Phone: +49 40 210 35 0
About Steinberg Media Technologies GmbH
Steinberg is known the world over for its music and audio software and hardware solutions. The company has been developing, manufacturing and selling innovative products for musicians and producers in the music, film, post production and multimedia industries since 1984. Steinberg products are used by Grammy and Oscar award-winning composers, engineers and producers. The company also offers business customers license-management and copy-protection systems.
Visit http://www.steinberg.net for further details.