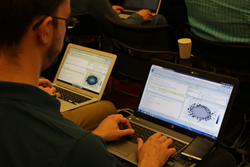 San Francisco, CA (PRWEB) January 21, 2017
A career in data science is exciting, challenging, and rewarding but it's also becoming increasingly competitive. More and more data scientists are recognizing that gaining new skills and making solid industry connections are the keys to enhancing their data science careers.
Tools, Topics and Languages
As the world of data science continues to evolve, ODSC provides the best platform to accelerate your knowledge into the latest topics, tools and trends in data science and AI.
The number of companies launching data science projects in 2016 provided sufficient evidence that data science is poised to stimulate innovation in industries across the board. To meet the projected demand, ODSC Masterclass Summit focuses on providing more opportunities to make data science accessible.
Use promo code: MASTER for an extra 15% Off tickets to Masterclass Summit. Redeem here.
Here's a sample of what Masterclass attendees will learn in more than 46 superior data science workshops and trainings:
Tools: Tensorflow, Scikit-learn, Caffe, Apache Spark, Neo4J, Azure ML, H20.ai, D3.js, R-Shiny, Hadoop
Topics: Deep Learning, Machine Learning, Predictive Analytics, Data Visualization, Text Analytics, and Big Data Science
Languages: Python, R, Julia, Scala, Stan, Pig/Hive/NoSQL
Adapt or Die
2016 has shown that people with the most current data science skills are highly sought after. This past year has seen a blizzard of new tools and projects launched with Deep Learning and Machine Learning at the forefront.
This year, traditional programmers and business analysts of all types are entering the data science field. They'll do so in recognition of the fact that acquiring data science skills and repositioning their careers in this direction is absolutely essential for them to remain relevant, effective, and employable for decades.
The developers and analysts who adapt and make this transition to full-fledged data scientists effectively will find their coding skills and domain expertise in hot demand in businesses around the world. Those who don't will likely see their careers steadily decline.
Becoming and staying an in-demand data scientist in 2017 requires new skills and solid contacts. Events like ODSC Masterclass Summit offers superior content, speakers and networking opportunities at a great value.
Make 2017 the year to learn data science!