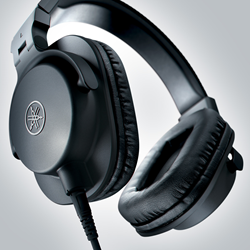 "The new MT series sets the standard in professional studio monitor headphones with each model designed for a specific user," said Nithin Cherian, marketing manager, pro audio, Yamaha Corporation of America.
ANAHEIM (PRWEB) January 19, 2017
Yamaha today showcased the HPH-MT5 and MT8 studio monitor headphones, developed with both studio and monitoring professionals in mind.
Inspired by the sonic purity philosophy held in the development of the industry standard Yamaha NS-10M studio monitor speakers, MT series headphones produce flat, high-resolution sound with precise stereo imaging to faithfully reproduce source signals. They also provide a high level of isolation and comfort to ward off fatigue during marathon monitoring sessions, either in the studio or on the road.
The MT5 and MT8 feature custom 40mm and 45mm drivers, respectively. Both use CCAW voice coils, along with powerful neodymium magnets to achieve precise definition, extended frequency response and control even at the highest output levels. The lightweight yet powerful drivers deliver a broad frequency response of 20Hz - 20kHz for the MT5, and 15 Hz-28 kHz for the MT8.
The MT5, the workhorse of the line, features a compact design that takes comfort and style into consideration. It features a closed back, and circumaural configuration for a comfortable fit. A sweat-resistant headband ensures lasting durability, perfect for the rigors of road travel. Large ear pads made from smooth synthetic leather and low-resistance cushions absorb excess vibrations and reduce sound leakage, offering solid isolation and stress-free wearability, even over extended periods. The MT5 is also available in white as the MT5W.
The MT8 is the most accurate headphone set ever offered by Yamaha, exposing every nuance of the performance, which makes it ideal for tracking. It features steerable earcups for single-ear monitoring and die-cast aluminum support arms. Like the MT5, it includes both a detachable straight 3-meter cord and coiled 1.5-meter cable, a first for Yamaha studio monitor headphones. Both cables are equipped with a corrosion-resistant gold-plated stereo mini plug and ¼" stereo adapter, allowing the flexibility to use them with everything from professional audio gear to portable audio players.
These three new models complement the previous release of the MT7, the company's ideal model to make a translatable mix but with vintage appointments.
"The new MT series sets the standard in professional studio monitor headphones with each model designed for a specific user," said Nithin Cherian, marketing manager, pro audio, Yamaha Corporation of America. "We now cover a variety of modern professional studio and monitoring applications with models that will give professionals the comfort and portability important for any live or recording studio environment."
Pricing and Availability
HPH-MT5/HPH-MT5W (MSRP: $169) and Yamaha HPH-MT8 (MSRP: $329) will ship January 19, 2017.
For more information, visit the Yamaha Booth at the 2017 NAMM Show in the Anaheim Marriott Hotel, Marquis Ballroom, January 19-22, 2017, or http://4wrd.it/HPH2017
-END-
About Yamaha
Yamaha Corporation of America (YCA) is one of the largest subsidiaries of Yamaha Corporation, Japan and offers a full line of award-winning musical instruments, sound reinforcement, commercial installation and home entertainment products to the U.S. market. Products include: Yamaha acoustic, digital and hybrid pianos, portable keyboards, guitars, acoustic and electronic drums, band and orchestral instruments, marching percussion products, synthesizers, professional digital and analog audio equipment, Steinberg recording products and NEXO commercial audio products, as well as AV receivers, amplifiers, MusicCast wireless multiroom audio systems, Blu-ray/CD players, earphones, headphones, home-theater-in-a-box systems, sound bars and its exclusive line of Digital Sound Projectors. YCA markets innovative, finely crafted technology and entertainment products and musical instruments targeted to the hobbyist, education, worship, music, professional audio installation and consumer markets.