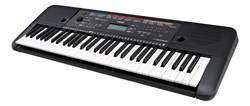 "With a push of a button, players have Yamaha piano, a drum kit, or a guitar at their fingertips," said Mark Anderson, director of marketing, Yamaha Digital Keyboards.
ANAHEIM (PRWEB) January 19, 2017
Yamaha today introduced the PSR-E263 and the PSR-E363 – portable, affordable playing/learning keyboards perfectly suited for young or aspiring musicians developing their skills. They are the latest additions to America's best-selling line of portable keyboards, with the PSR-E363 being the most affordable in the series to feature touch-sensitive keys.
The 61-key PSR-E263 includes a wide assortment of sounds, functions and features, including 400 instrument voices and 130 styles players can use to experiment and create their own music.
The entry-level instrument is packed with basic recording and composition features players can use to learn at their own pace. The Phrase Record option enables seamless playback so players can quickly and easily capture their performances and listen back.
Guided by the on-board lesson mode, called Yamaha Education Suite (YES), budding musicians have access to more than 100 preset songs to learn on their own, making it a unique and affordable educational tool.
The PSR-E263 is a great instrument to help sharpen and develop essential skills independently between piano lessons, and since it can be powered by 6 AA batteries, it can be transported virtually anywhere with ease.
The PSR-E363 is packed with well over 500 stunning instrument voices and a wealth of accompaniment styles. It features 61 touch-sensitive keys and on-board lessons, as well as computer and mobile device connectivity. The USB to HOST port allows for both MIDI and audio to pass to and from a computer's recording software with a single cable, making the PSR-E363 a great instrument to get started with home recording. It easily becomes a speaker system for your computer, allowing you to listen to your recordings instantly or even play your favorite songs in your computer's music library.
"The keys on the PSR-E363 are touch-sensitive. This means when the user strikes the keys harder, the notes are louder, like on a piano" said Mark Anderson, director of marketing, Yamaha Digital Keyboards. "The PSR-E363 is the first portable keyboard in the line to offer this feature, making it easier for aspiring musicians to move back and forth from an actual acoustic piano."
"The PSR-E263 and PSR-E363 are great starter keyboards," added Anderson. "With a push of a button, players have a Yamaha piano, a drum kit, or a guitar at their fingertips. Press another button and they're learning how to play a song, including correct fingering, timing, and pitch. These keyboards promise to grow with the musician as they learn to make music."
Pricing and Availability
Yamaha PSR-E263 (MSRP: $199.00) and PSR-E363 (MSRP: $299.00) will ship in April and June 2017, respectively.
For more information, visit the Yamaha Booth at the 2017 NAMM Show in the Anaheim Marriott Hotel, Marquis Ballroom, January 19-22, 2017, or http://4wrd.it/PORTABLEKEYBOARD
-END-
About Yamaha
Yamaha Corporation of America (YCA) is one of the largest subsidiaries of Yamaha Corporation, Japan and offers a full line of award-winning musical instruments, sound reinforcement, commercial installation and home entertainment products to the U.S. market. Products include: Yamaha acoustic, digital and hybrid pianos, portable keyboards, guitars, acoustic and electronic drums, band and orchestral instruments, marching percussion products, synthesizers, professional digital and analog audio equipment, Steinberg recording products and NEXO commercial audio products, as well as AV receivers, amplifiers, MusicCast wireless multiroom audio systems, Blu-ray/CD players, earphones, headphones, home-theater-in-a-box systems, sound bars and its exclusive line of Digital Sound Projectors. YCA markets innovative, finely crafted technology and entertainment products and musical instruments targeted to the hobbyist, education, worship, music, professional audio installation and consumer markets.