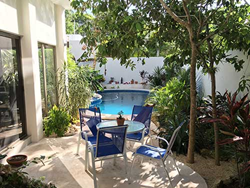 Milwaukee, Wisconsin (PRWEB) January 24, 2017
The Villa Passiflora Group is pleased to announce the opening of its new rental property, Villa Passiflora. Located in La Velleta area of Tulum Mexico, the property offers walking accessibility to downtown restaurants, shops and banks.
For many families, having a property with a private pool in addition to beach access is a desirable way of mixing vacation adventure with the practicality of daily activities. A fully equipped kitchen makes it easy to feed everyone, keep the budget in line, and have all the fun vacationers expect from a 'stay at the beach'.
The location is ideal for those seeking adventure, historical sites, fantastic local food, or down time at the beach. Snorkeling off the reefs, visiting Maya ruins in Tulum and Chichen Itza, sight-seeing in the sensational Cenotes, there are activities for all tastes.
For additional information please visit their newly designed website at http://www.tulum-vacationrentals.com