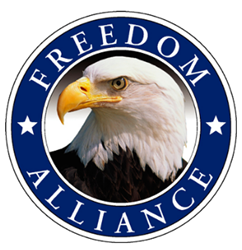 "We're humbled and grateful to receive this award," said Freedom Alliance President, Tom Kilgannon.
WASHINGTON, D.C (PRWEB) January 19, 2017
Freedom Alliance will be recognized with the All-American Hero Award, set to be presented at the All American Inaugural Ball on January 19. The Ball is a tribute to American heroes who sacrifice on behalf of others every day. Freedom Alliance will be honored along with legendary astronaut Buzz Aldrin, U.S. Rep. Tom Garrett (Virginia) and Scott Taylor (Virginia), as well as Maj. Gen. Alan Salisbury (U.S. Army), among others. The event takes place the day before the 45th President of the United States takes the Oath of Office.
Freedom Alliance President Tom Kilgannon will accept the award on behalf of the organization. "We're humbled and grateful to receive this award," said Kilgannon. "Freedom Alliance helps thousands of troops and military families rehabilitate and overcome the wounds of war, especially those suffering the effects of Traumatic Brain Injuries (TBI) and Post Traumatic Stress (PTS). We've got a dedicated and talented team that works every day to ensure that the service and sacrifice of every Soldier, Sailor, Airman and Marine is recognized and honored."
Freedom Alliance saves lives and military marriages by providing recreational rehab to combat-wounded heroes and counseling retreats for military couples. The organization gives all-terrain wheelchairs to amputees to increase their mobility and independence; donates mortgage-free homes to combat-wounded veterans; ships care packages to troops deployed overseas and has granted more than $2.5 million to hospitalized heroes and their families to help with unexpected costs during their recovery. Freedom Alliance has also awarded more than $11 million in college scholarships to the children of military personnel killed or permanently disabled in combat or during an operational mission.
The All American Inaugural Ball will recognize and honor several especially deserving citizens for their outstanding and tireless work in their respective fields of civic service. These honored guests – "All American Heroes" – represent the very best of America. They are the heart, soul and backbone of the American spirit. The Ball is a premier inaugural celebration, bringing together thought-leaders, elected officials, celebrities and truly amazing American Heroes.
For media inquiries, please contact Althea Paul of Vistra Communications at 813.321.3310 or AltheaP(at)ConsultVistra(dot)com.
About Freedom Alliance
Freedom Alliance is a charitable organization which provides help and support to wounded troops and military families. Freedom Alliance has awarded more than $11 million in college scholarships to the children of military heroes killed or disabled in military service and spent millions more helping injured veterans and military families with outdoor recreational therapy trips, Heroes Vacations, care Packages for deployed troops, mortgage-free homes, all-terrain wheel chairs and much more. You can learn more about Freedom Alliance at http://www.FreedomAlliance.org.
###