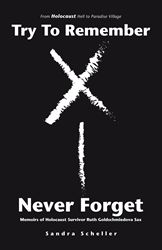 Las Vegas (PRWEB) January 23, 2017
As a tribute to the strength and tenacity of her mother, Sandra Scheller wrote the book "Try to Remember-Never Forget." It is the personal story of a woman who survived the holocaust and serves as a plea to the people of the world not to let the horrible mistakes of the past be repeated.
Ruth Goldschmiedova Sax was only 11 years old when the Nazis invaded Czechoslovakia. She was separated from her family and sent to three different concentration camps, where she witnessed atrocities daily. When the camps were liberated, Ruth was miraculously reunited with her mother and father.
She later got married and resettled in America for a new life. Now in her 80s, Ruth continues to share many of her stories that serve as important lessons.
"God created a perfect world," said Ruth. "Only some people make it so miserable."
"My mother has so much to live for and can now hold a book in her hands that contains her life story while knowing that her past has made a difference in people's lives today," said Scheller.
As many parts of the world are polarized due to political and social issues, Scheller wants to remind people that certain events from the past might seem unbelievable today, but still have the potential to happen again. Thus, the lessons in "Try to Remember-Never Forget" must always be taken seriously.
"Try to Remember-Never Forget"
By Sandra Scheller
ISBN: 978-1-53200-029-4 (hardcover); 978-1-53200-028-7 (softcover);
978-1-53200-027-0 (eBook)
Available on Amazon, Barnes & Noble, and iUniverse
About the author
Sandra Scheller lives an artistic life that includes creating and designing costumes and clothing for film, theater, and runway. She is married, has raised 2 boys, and now assists with the needs of her mother, a job and responsibility that takes priority over everything. To learn more, please visit http://www.trytorememberneverforget.com.
###
Review Copies & Interview Requests:
LAVIDGE – Phoenix
Bryan Beach
480-998-2600 x 510
bbeach(at)lavidge(dot)com
General Inquiries:
LAVIDGE – Phoenix
Kalin Batts
480-998-2600 x 524
kbatts(at)lavidge(dot)com