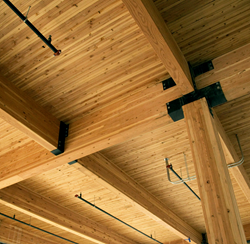 The fever pitch excitement for mass timber products and our 2017 conference only reaffirms that mass timber is the new sustainable choice for greener buildings and growing cities.
Portland, Ore. (PRWEB) January 23, 2017
The second annual International Mass Timber Conference is attracting professionals from around the globe to Portland, Oregon, March 28-30, as innovative building products such as cross-laminated timber (CLT), nail-laminated timber, and other mass timber take the design and construction worlds by storm. Hundreds of attendees from 13 countries have registered so far and many more are expected before the event kicks off late March. A pre-conference mass timber building tour precedes two days of educational panels, an expo, and networking events.
All the rage in global press, mass timber is a category of engineered wood framing often using lumber glued together to make massive and extremely strong panels of solid wood for use as floors and walls. These innovative products are competing with concrete, masonry, and steel in mid- and high-rise buildings and offer fast build times, sustainability, less waste, and superior carbon efficiency. Mass timber includes products such as CLT, nail-laminated timber, glue-laminated (glulam) panels, and laminated veneer lumber.
For year two, the International Mass Timber Conference has moved to the Oregon Convention Center, giving a fast-growing attendance more elbow room and a bright, modern facility, and has contracted with two nearby hotels—Doubletree by Hilton Portland and Hotel Eastlund. The convention center and hotels are all located next to Portland's MAX Light Rail, providing easy access to and from the airport and downtown.
A highlight of the conference is the presentations, both the keynotes in the general sessions and the technical presentations in the educational tracks. Chuck Leavell, keyboardist for The Rolling Stones and a conservationist tree farmer, is just one of many outstanding keynotes slated for the event, with several to be announced soon. Doubling in size for 2017, the educational tracks feature 80 global speakers addressing the following topic areas:

environment, sustainability, certification, and education;
developers and builders;
architecture and engineering; and
manufacturing, research and development, and applied research.
When not attending the educational sessions, attendees spend time in the exhibit hall which serves as the hub for all conference activities. Exhibit space demand has been so great in 2017 that all general spaces sold out in record time with a growing waitlist of hopefuls. However, there are still exhibit spaces available for those investing in premium sponsorships. The hall features 54+ exhibitors and poster presentations for higher education students to display their mass timber research. All meals, breaks, and two evening receptions are held in the hall to maximize networking among exhibitors and attendees.
"Our company has 100+ years combined experience in the wood products industry and have been working in the mass timber sector for years now, but still find ourselves astonished at the game-changing power of mass timber to positively disrupt the commercial building market around the world, and possibly even the residential market in the future," says Craig Rawlings, President & CEO of Forest Business Network, the producer of the International Mass Timber Conference. "A dedicated mass timber event was needed when we launched the inaugural Mass Timber Conference in 2016 and yet the fever pitch excitement for these products and our 2017 event only reaffirms that mass timber is the new sustainable choice for greener buildings and growing cities."
The pre-conference building tour will visit Portland's newest timber buildings, including a premier look at Carbon12, a CLT and glulam-paneled eight-story building that's currently under construction. An additional tour—to be announced soon—will take attendees to the Oregon State University testing facility and other points of interest for those working in mass timber.
The International Mass Timber Conference is currently offering a 25% final early bird discount on select passes. In addition, the event is pleased to offer a 50% discount on passes for university, nonprofit, and government workers; and an 80% discount for current higher education students.
A detailed agenda, building tour information, interactive exhibit hall floorplan, and more can be found at MassTimberConference.com.
Our sponsors help make the conference possible and include the following fine companies and associations: Hexion, SmartLam, and Oregon Forest Resources Institute. Other sponsorships are available for those looking to gain brand awareness and top-of-mind exposure to global mass timber professionals.
About Forest Business Network (FBN)
FBN is a top-tier consultancy, event marketing, and news and information source in the forest products industry. Its website—ForestBusinessNetwork.com—is a go-to news resource for industry professionals. FBN's President and CEO, Craig Rawlings, is a nationally recognized expert in under-utilized timber and biomass.