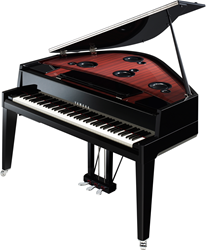 "AvantGrand represented an entirely new direction for the piano when we first introduced it, setting it into a class unto itself, and it has been warmly received from the start," said Paul Calvin, general manager, Keyboard division, Yamaha.
ANAHEIM (PRWEB) January 19, 2017
Yamaha today showcased the N3X, the company's newest flagship AvantGrand piano that now offers the experience of playing two of the world's most revered pianos – the Yamaha CFX concert grand piano and the Bösendorfer Imperial grand piano – in a contemporary design, space-saving instrument.
The new AvantGrand N3X is a follow up to the company's hugely successful N3, which represented an entirely new category of musical instrument when it was first introduced in 2009. Four years from conception to realization, the original N3 posed a daunting challenge to Yamaha's seasoned and highly talented engineers and craftsmen. Quite simply, how do you build an instrument that has the same touch, tone and most important, artistic connection of the company's finest $100,000+, 9-foot concert grand piano at the time – the CFIIIS – that is a mere fraction of the cost, less than half the size, and doesn't need tuning?
The N3 succeeded at delivering on its goal, and the AvantGrand N3X builds significantly on this success, updated to include stunningly captured samples of the Yamaha CFX (the successor to the CFIIIS) and Bösendorfer Imperial grand pianos.
The nine-foot CFX represents the pinnacle of Yamaha piano craftsmanship, and is sonically characterized by an exquisite tone across the entire dynamic range. The crowning glory of the Yamaha line, today's CFX concert grand elevates this revered instrument to an even higher standard of excellence.
With its dramatic presence, unsurpassed power and emotional sonority, the Bösendorfer Imperial grand piano is the ultimate representative of the company's skills, and it continues to inspire generations of classical, jazz and new music performers. Its massive soundboard, the largest of all concert grands, makes its sound an almost orchestral experience. Its extraordinary sound inspired major composers, including Bartók, Debussy and Ravel.
The signature sounds of both awe-inspiring instruments have been meticulously captured digitally, using the world's greatest microphones and equipment to create a performance experience that will bring sheer delight to the most demanding piano enthusiast.
"AvantGrand represented an entirely new direction for the piano when we first introduced it, setting it into a class unto itself, and it has been warmly received from the start," said Paul Calvin, general manager, Keyboard division, Yamaha Corporation of America. "The new N3X takes many leaps beyond this, offering two great piano playing experiences in an exquisitely-designed, incredible-sounding instrument at a remarkably low price."
The N3X retains the exclusive features found in the N3, including state-of-the art sound sampling technology, an ingenious speaker system, and an array of actuators (Tactile Response System) that meticulously recreate the key vibrations intrinsic to a concert grand piano. Four speakers are strategically located in the same positions as the four microphones used to sample the source instrument, while a flat-panel soundboard resonator reproduces the buildup of sound that a pianist hears and feels. Finally, a specialized grand piano pedal duplicates the sensation of a grand piano's pedals as faithfully as possible.
The new AvantGrand N3X stretches the imagination even further, and opens up a whole new world of possibilities for piano performance, including the following major upgrades:

Four-Channel Yamaha CFX Grand Piano Sample
Four-Channel Bösendorfer Imperial Grand Piano Sample
Binaurally sampled CFX sound source (for use with headphones)
10 Voices (vs. 5 in the N3)
XLR jacks, balanced output (for stage & recording studio use)
USB Audio recording
Pricing and Availability
The N3X is available now at authorized Yamaha piano retailers with an MSRP of $22,199.
For further information, visit the Yamaha Booth at the 2017 NAMM Show in the Anaheim Marriott Hotel, Marquis Ballroom, January 19-22, 2017, or visit http://4wrd.it/AVANTGRANDN3X
-END-
About Yamaha
Yamaha Corporation of America (YCA) is one of the largest subsidiaries of Yamaha Corporation, Japan and offers a full line of award-winning musical instruments, sound reinforcement, commercial installation and home entertainment products to the U.S. market. Products include: Yamaha acoustic, digital and hybrid pianos, portable keyboards, guitars, acoustic and electronic drums, band and orchestral instruments, marching percussion products, synthesizers, professional digital and analog audio equipment, Steinberg recording products and NEXO commercial audio products, as well as AV receivers, amplifiers, MusicCast wireless multiroom audio systems, Blu-ray/CD players, earphones, headphones, home-theater-in-a-box systems, sound bars and its exclusive line of Digital Sound Projectors. YCA markets innovative, finely crafted technology and entertainment products and musical instruments targeted to the hobbyist, education, worship, music, professional audio installation and consumer markets.