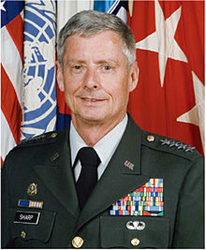 We're very pleased to have a senior officer of General Sharp's caliber serve on our board.
Alexandria, Va. (PRWEB) January 19, 2017
The Military Officers Association of America (MOAA) today announced retired Army Gen. Walter L. "Skip" Sharp has joined its board of directors.
The former commander of United Nations Command, Combined Forces Command and U.S. Forces Korea (UNC/CFC/USFK) will serve a six-year term as a senior member of the association's 36-person board.
Sharp joins two other four-stars on the board: board Chair retired Marine Corps Gen. John J. "Jack" Sheehan and retired Navy Adm. Walter F. Doran.
"I have always admired MOAA's mission of advocating for the military community and to never stop serving," said Sharp. "I'm excited about the association's direction and look forward to contributing to its continued success."
"We're very pleased to have a senior officer of General Sharp's caliber serve on our board," said MOAA President and CEO retired Air Force Lt. Gen. Dana Atkins. "The leadership and experience he brings from both the military and private sector will contribute greatly to the success of our association. I look forward to his mentorship and working closely with him in the future to realize our vision to be the leading association advocating on behalf of the military community."
Sharp graduated from the U.S. Military Academy at West Point, N.Y., in 1974 and was commissioned an armor officer. He has a Master of Science in operations research and system analysis from Rensselaer Polytechnic Institute.
Sharp commanded at all levels of the Army from company through division as well as joint commands. He served as the regimental commander 2nd Armored Cavalry Regiment at Fort Polk, La; assistant division commander for maneuver, 2nd Infantry Division, Camp Red Cloud, South Korea; and division commander, 3rd Infantry Division, Fort Stewart, Ga. He commanded troops in Desert Shield and Desert Storm, Operation Uphold Democracy in Haiti and SFOR's Multinational Division (North) in Bosnia.
At the joint level, Sharp served as vice director for Force Structure, Resources and Assessment, J-8, the Joint Staff, the director for Strategic Plans and Policy, J-5, the Joint Staff; and as director of the Joint staff.
Sharp retired in September 2011 after 37 years of service, last serving as commanding general UNC/CFC/USFK in Seoul from 2008-11. Since retiring from the U.S. Army, he has held the position of president and manager of Sharp Advice LLC, where he provides strategic and effective business- planning consulting services for various U.S. and foreign companies.