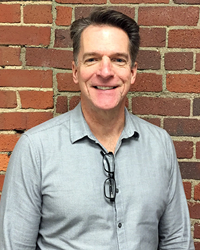 Canton, OH (PRWEB) January 19, 2017
On a daily basis, Crawford will oversee manufacturing operations at the Canton-based company and manage its supply chain, including every step in the process from order entry to delivery.
A self-described "operations generalist," Crawford brings with him strong qualifications, a number of certifications, and years of experience in supply chain management. Crawford began his career as a manufacturing engineer in Charlotte, NC, working on the production floor of Freightliner Corporation. Quickly recognizing his leadership skills, Freightliner invited Crawford to a join a rotational management development program. That training kicked off his long career as manager for manufacturing companies across the country — first at CPS Color, a manufacturer of paint tinting equipment, and most recently as a Manager of Global Supply Chain for the power management company, Eaton Corp.
Crawford is a certified supply chain professional who also holds an APICS Certification in Production and Inventory Management (CPIM), in addition to being a licensed CPIM instructor. With these qualifications at his disposal, Crawford plans to focus on streamlining and improving efficiency at every stage in the manufacturing process; keeping Midwest's sales, production, and service teams in regular communication and in sync on all processes and deliverables; minimizing time and materials spent on non-essential processes; and scaling internal operations to account for business growth.
"In a company that's still growing there's a need for structure and process, and that's my strong suit — developing and strengthening processes so that they are repeatable and not reliant on institutional knowledge" he said. "We need to maintain efficiency and consistency in our product manufacturing as the business grows, and that's where my focus will be."
Midwest provides environmentally-safe solutions for companies and operations in a wide range of industries, from rail to metal mining. The addition of Crawford to the team will further ensure that every single one of Midwest's industry-leading products are manufactured to meet the company's meticulous standards to help combat industrial dust, ice, friction, and unstable soils.
About Midwest
Midwest is the world leader in environmentally sound dust control, erosion control, and soil stabilization technology. We bring our customers more solutions, documentation and support than any other manufacturer.