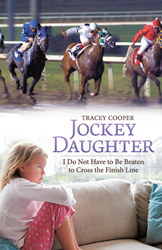 Leesburg, VA (PRWEB) January 23, 2017
Cathy Passmore Lindberg, who writes under the pen name Tracey Cooper, comes from a very popular and revered race track family−As a jockey and son of a horse trainer, Cooper's father rode race horses for thirty-seven years−but many are unaware of the abuse that went on behind closed doors.
In her new memoir, "Jockey Daughter," Cooper describes horrific episodes of child abuse that occurred within the household. While her father was absorbing the adulation of racing fans and the thrill of driving horses across the finish line, Cooper and her six siblings were facing daily physical and verbal abuse at the hands of their "out of control" mother.
Cooper lived a dual life; one of glamour and fun within the horse racing sport and one of extreme mistreatment with bruises and beatings. Similarly, Cooper's mother lived a dual existence by perfecting her public image as a community leader and secreting her family persona, which was one of abuser.
In the book, Cooper describes how many visitors witnessed the trauma upon the children and chose to turn away or refrain from acting upon their instincts, but that didn't prevent Cooper and her siblings from becoming successful and happy individuals as adults.
Cooper's story is a true testament to the resilience of children and the mechanisms they use to become successful and happy individuals. As Cooper and her siblings matured and had their own children, they proved that that cycle of abuse can be broken and that no one needs to be beaten to cross life's finish lines.
"In writing my story, I hope to reveal that even in ordinary households, no matter the economic or professional status, child abuse can occur," Cooper said. "My siblings and I are living proof that you don't have to be a victim of child abuse and the cycle can stop from being passed on to the next generation."
In "Jockey Daughter," readers will hang on to Cooper's story and bear witness to a tale of how one can survive child abuse and rise above the negative consequences despite the odds of unfavorable treatment.
"Jockey Daughter"
By: Tracey Cooper
ISBN: 978-1-5320-0438-4 (sc), 978-1-5320-0440-7 (hc), 978-1-5320-0439-1 (e)
Available at the iUniverse Online Bookstore and Amazon
About the author
Cathy Passmore Lindberg, who writes under the pen name, Tracey Cooper, to protect the identities of those mentioned in her memoir, is an attorney living in Leesburg, Virginia. For more information about the author and her book, please visit: http://www.jockeydaughter.com.
# # #
Review Copies & Interview Requests:
LAVIDGE – Phoenix
Maggie Driver
480-998-2600 x 584
mdriver(at)lavidge(dot)com
General Inquiries
LAVIDGE – Phoenix
Courtney Coombes
480-998-2600 x 612
ccoombes(at)lavidge(dot)com