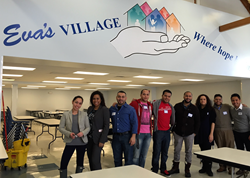 We are proud to work alongside Eva's Village and to help build stronger and healthier neighborhoods –one family at a time. Carlos Arroyo, Senior Vice President at Wells Fargo
Paterson, NJ (PRWEB) January 25, 2017
In the past year, Wells Fargo has made grant awards to several of the 20 anti-poverty programs at Eva's Village: $10,000 to Eva's Community Kitchen in December; $20,000 to The Culinary School at Eva's Village in September; and $7,500 to the Summer Enrichment Program for the children of Eva's Village in August. For more than a dozen years, the bank has provided broad-based support for ongoing programs and new initiatives at Eva's Village. "Private donations contribute more than a third of our annual revenue," Eva's Development Director, Heather Thompson noted. "Several of Eva's programs, including our Community Kitchen and the Summer Program for children, rely entirely on contributions from businesses and community groups," she explained.
Eva's 20 programs serve the growing numbers of homeless and working poor in the Paterson community. More than one million New Jersey residents struggle with hunger each day: nearly that many (10.7%) live below the poverty level and 27.5% of residents pay more than 50% of their income on rent. Paterson is one of the 10 poorest cities in the state.
For the past 35 years, Eva's Village has served a nutritious daily meal to those in need. Today, the Community Kitchen serves meals to more than 350 individuals, 365 days a year. Last winter, Eva's Village added weekday breakfast service to address the ongoing problem of hunger in the Paterson community. Through interactions with staff and volunteers, individuals who come for meals learn about other services and programs available at Eva's Village. Opened in 2013, The Culinary School at Eva's Village offers job training and support to prepare students for entry-level positions in the food service industry. Eva's eight-week Summer Program provides fun and educational experiences for children who live with their mothers in Eva's shelters and residential programs.
Wells Fargo has also helped fund job readiness programs to prepare Eva's clients to re-enter the workforce, contributed to after-school enrichment programs for the children of Eva's Village, and to Eva's sheltering programs. Wells Fargo employees frequently volunteer to serve in Eva's Community Kitchen through Eva's Fund-A-Meal program, which underwrites the cost of two days of meals for kitchen guests and clients in Eva's residential programs. The bank's volunteers also participate in mock job fairs, offering feedback and advice to help prepare Eva's clients for job interviews.
"Wells Fargo has been a long-time supporter of Eva's Village and the important work they do for the City of Paterson and surrounding area," said Carlos Arroyo, a senior vice president at Wells Fargo. "This organization, through its wide-ranging services, continues to make a life-changing impact on children and families in transition. We are proud to work alongside Eva's Village and to help build stronger and healthier neighborhoods –one family at a time."
More about Wells Fargo
Wells Fargo is committed to providing community solutions–local responses to local needs–by promoting economic development and self-sufficiency through community development, financial education, cash contributions, affordable housing, environmental stewardship, and through the efforts of our enthusiastic team member volunteers. In 2015, Wells Fargo invested $281.3 million in grants to 16,300 nonprofits, and team members contributed more than 1.86 million volunteer hours around the country. Locally, the company's contributions to New Jersey non-profits totaled over $5.3 million in 2015. There were over 750 grants awarded to support non-profits involved in such areas as community development, education, health and human services, arts and culture and environmental initiatives. Additionally, New Jersey team members contributed 22,720 volunteer hours to help their neighborhoods and communities flourish.
More about Eva's Village
Founded by Msgr. Vincent E. Puma in 1982, Eva's Community Kitchen began by serving 30 meals a day to feed the hungry in Paterson. In response to the related issues of poverty, addiction, mental illness and homelessness in the community, additional programs and services grew out of the Community Kitchen to become Eva's Village, a non-profit, social service, anti-poverty organization that is one of the most comprehensive in New Jersey. For more than 30 years, Eva's Village carried out its mission to feed the hungry, shelter the homeless, treat the addicted, and provide medical and dental care to the poor with respect for the human dignity of each individual. Today, Eva's Village helps thousands of individuals rebuild their lives each year through 20 integrated programs addressing needs in the community for Food & Housing, Medical & Recovery Services, and Education & Training.