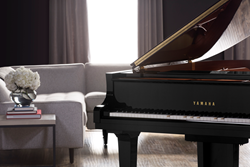 "For three decades, the Disklavier has enthralled generations of piano aficionados with the most exciting way in which to learn, play and enjoy the piano," said Jim Levesque, Yamaha Disklavier marketing manager.
ANAHEIM (PRWEB) January 20, 2017
Thirty years ago, Yamaha Corporation of America first introduced the MX-100A, a 48-inch Yamaha Disklavier upright reproducing piano in the United States, powered by a PianoSoft music library that consisted of a mere eleven 3.5" magnetic floppy disks.
Today, the Yamaha Disklavier has earned a stellar reputation for being the most popular, most reliable and most award-winning reproducing piano in the world. It is now available in a full line of instruments that comprise Disklavier ENSPIRE™, the eighth generation of Disklavier pianos. Long gone are floppies, replaced by an easy-to-use and intuitive controller app that provides direct access to over 500 built-in songs and over 6,000 performances that can be downloaded directly to the instrument from the Yamaha MusicSoft online store. Exclusive high-quality streaming radio and video services are also available — past events have included the Monterey Jazz Festival, the Newport Music Festival, even an Elton John concert displayed on a big screen TV—with the piano performance received "live" (or on-demand) on the Disklavier ENSPIRE, all in the comfort of the home.
"For three decades, the Disklavier has enthralled generations of piano aficionados with the most exciting way in which to learn, play and enjoy the piano," said Jim Levesque, Yamaha Disklavier marketing manager. "This remarkable instrument consistently reveals our company's innovative approach to music-making, as well as its unwavering commitment to consistently stay well ahead of the curve."
To maintain its leadership role, Yamaha Disklavier technology has been at the center of several milestone Yamaha innovations. The year 1997 saw the arrival of the DGT2IIXG GranTouch, the first digital piano equipped with an acoustic grand action and installed Disklavier system.
The new millennium heralded the debut of the Disklavier PRO 2000, an eye-catching $333,000 concept instrument like no other. It was visually noteworthy for its clear, acrylic glass, split lid, cherry wood contemporary "Neo" design and a built-in computer monitor connected to a Windows 98 PC mounted underneath the piano.
In April 2004, Yamaha unveiled the Mark IV, the first Wi-Fi enabled Disklavier that provided the platform for DisklavierRadio and DisklavierTV, marking the first time in history that an Internet-connected player piano streamed live performances into the home, offering non-stop, 24/7 entertainment.
In 2005, Yamaha introduced the world to the Elton John Signature Series Red Piano, a special edition series of 50 "Chinese Red" Mark IVs featuring five actual Elton John performances recorded specifically for the series and unavailable anywhere else.
Yamaha Corporation of America and the Yamaha Disklavier piano won the Music Teachers National Association's (MTNA) Frances Clark Keyboard Pedagogy Award in 2006, marking the first time a music product received the honor. According to Dr. Samuel Holland, then executive director of the Frances Clark Piano Foundation, the award recognized the Disklavier as "a product whose influence on how music can be created and thereby taught is truly transformative – an influence so potentially great that we are still only beginning to glimpse the possibilities."
And this past fall, Yamaha successfully linked the new Yamaha Disklavier ENSPIRE to the company's highly acclaimed MusicCast wireless multiroom audio system, creating the world's first wireless multiroom instrument capable of playing beyond the four walls of a single room to any room in the home – even outside.
Today, as visible proof of the Disklavier's acoustic excellence and digital versatility, hundreds of colleges and universities, churches, restaurants, medical facilities, hotels and recording studios rely on the Yamaha Disklavier to entertain, inspire and produce high-quality musical experiences.
Pricing and Availability
Yamaha Disklavier ENSPIRE is available in 14 models, 48" uprights and grand pianos ranging from 5'0" (DGB1K) to the flagship 9' Concert Grand (DCFX). These instruments began shipping this past summer.
For more information, visit the Yamaha Booth at the 2017 NAMM Show in the Anaheim Marriott Hotel, Marquis Ballroom, January 19-22, 2017, or http://4wrd.it/YamahaDisklavier
-END-
About Yamaha
Yamaha Corporation of America (YCA) is one of the largest subsidiaries of Yamaha Corporation, Japan and offers a full line of award-winning musical instruments, sound reinforcement, commercial installation and home entertainment products to the U.S. market. Products include: Yamaha acoustic, digital and hybrid pianos, portable keyboards, guitars, acoustic and electronic drums, band and orchestral instruments, marching percussion products, synthesizers, professional digital and analog audio equipment, Steinberg recording products and NEXO commercial audio products, as well as AV receivers, amplifiers, MusicCast wireless multiroom audio systems, Blu-ray/CD players, earphones, headphones, home-theater-in-a-box systems, sound bars and its exclusive line of Digital Sound Projectors. YCA markets innovative, finely crafted technology and entertainment products and musical instruments targeted to the hobbyist, education, worship, music, professional audio installation and consumer markets.