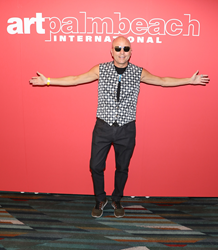 My prestigious clients continually seek the rarest of art pieces and I am frequently able to discover fantastic works for them from Art Palm Beach.
Miami, FL (PRWEB) January 20, 2017
Last evening was a beautiful, balmy night in West Palm Beach, FL, when famous poet and art dealer extraordinaire Jimmy D Robinson a.k.a. "The Million Dollar Broker" made an astonishing appearance at one of the biggest and most influential international art shows of the year—Art Palm Beach. This year, the now legendary Art Palm Beach is celebrating its 20th Anniversary with glamorous gaieties. Wearing a signature Versace vest and baring his svelte sleeveless arms for all to admire, Robinson magnanimously browsed and mingled around the Palm Beach County Convention Center during the VIP preview night event. View all of the exclusive Getty Images of Jimmy D Robinson attending Art Palm Beach.
"There is much reason to celebrate this year at Art Palm Beach. Coming out and reveling the 20 years of service Art Palm Beach organizers David and Lee Ann Lester have given to the international art scene is a marvelous experience," states Jimmy D Robinson. "Both David and Lee Ann have given tirelessly to this world-renowned art show and I am very grateful to be a part of its growth year-after-year."
With a luminous savoir-faire, Jimmy D Robinson mixed and posed for photos with art critics, artists, and aficionados all night long. However, first things first, Robinson's main mission was to shop for one of his clients located in California—a client who is currently purchasing nearly $300 million worth of art for a new museum he is curating.
Robinson adds, "Art Palm Beach is one of the greatest contemporary art fairs on Florida's Gold Coast. Established and emerging artists from more than 75 galleries and 21 countries converge to display their work and it is affably always top-notch. My prestigious clients continually seek the rarest of art pieces and I am frequently able to discover fantastic works for them from Art Palm Beach."
All the merriment of the Art Palm Beach VIP opening for Jimmy D Robinson adds to his already celebratory mood, as his recently unveiled music endeavor featuring his modern poetry set to music by A Flock of Seagulls is taking flight. The first single titled "Ageless Prince" is currently added to clubs and radio playlists, while the next single "Pedro" is gearing up for a mammoth musical takeover, featuring major remixers on the project. The chill lounge singles stem from a unique collaboration between Robinson, A Flock of Seagulls, and international record producer Josh Harris, as they carry on crafting a full album of down-tempo songs titled "Living in Time."
There is a full interview with Robinson and Seagull's front man Mike Score, out this month in Hollywood Weekly Magazine about Jimmy D Robinson's Mind Juice Records' collaboration with the Grammy winning band. To read the article, please visit: Hollywood Weekly Magazine Cover Story.
For more information on Jimmy D Robinson Inc visit ARTNET.