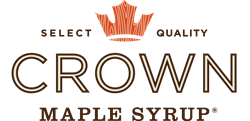 Dover Plains, NY (PRWEB) January 22, 2017
Established as an organic, artisan-quality maple syrup brand, Crown Maple is pushing the boundaries of the pure maple syrup categories, unveiling three new flavor infused products at the 2017 Winter Fancy Food Show. From January 22-24 at San Francisco's Moscone Center, Booth #511, the brand will showcase a line of small-batch, limited edition syrups -- available in Vanilla, Cinnamon, and Smoked flavors -- created from Crown Maple's popular Dark Color Syrup. Each new product offers a distinctive, delicious flavor profile and high-quality craftsmanship to naturally sweeten dishes far beyond the pancake platter, including baked goods, grilling marinades, and even cocktails.
The Vanilla Syrup (SRP$ 19.95) is infused with Madagascan Vanilla Beans for a rich, dark, and creamy syrup with a perfectly sweet, buttery aroma. Crown Maple suggests adding a splash in coffee, tea, oatmeal, and baked goods to give everyday food a surprisingly sweet hint of vanilla.
The cinnamon sticks used to infuse the Cinnamon Syrup (SRP$ 19.95) are made from long pieces of bark that are rolled, pressed, and dried to create an intriguing and comforting flavor, while elevating everyday foods such as yogurt, ciders, and ice cream.
Crown Maple's Smoked Syrup (SRP$ 19.95) is slowly smoked at low temperatures over 100 percent natural apple wood, creating a delicate and sweet smoky flavor. This enticing infused syrup is suggested for grilling marinades, sauces, ciders, and mixology.
"I'm thrilled to unveil Crown Maple's flavor infused syrups," said Mike Cobb, CEO of Crown Maple. "The processes and flavor innovation happening at Crown Maple allows consumers to enjoy maple syrup in newer and more innovative ways than ever before, and our team is committed to creating a product that inspires you in the kitchen and excites your tastebuds. We believe this new line builds on that promise and offers maple lovers and newbies alike the opportunity to explore the culinary and beverage possibilities of maple."
Crown Maple's line of small-batch, limited release flavor infused syrups is currently available at the retail shop at the Crown Maple Estate in Dover Plains, NY, and will be available for purchase at additional retail outlets and online in Fall 2017.
To learn more about Crown Maple, stop by Booth #511 at the Winter Fancy Food Show or visit http://www.CrownMaple.com.
About Crown Maple
Crown Maple is Quite Possibly the Purest Maple Syrup on Earth® and sets a new standard of excellence for maple. Founded by Robb & Lydia Turner in 2010, Crown Maple has been carefully crafted from the ground up to become the preeminent maple syrup brand. By pairing the best nature has to offer with artisan craftsmanship and breakthrough proprietary production technology, Crown Maple creates an extraordinary maple experience. Crown Maple products are estate-produced, certified-organic and provide a superior and distinctive taste and performance that elevates Crown Maple beyond a sweetener and into a defining ingredient.
The Crown Maple estate is based in New York's Hudson Valley at Madava Farms, the Turner family's farm, and has quickly become New York's largest maple syrup producer. With availability from coast-to-coast, Crown Maple is the syrup of choice served at top restaurants, resorts, and culinary institutions and is available for purchase at national grocery stores, natural retailers, specialty stores, and foodservice distributors. Crown Maple products can also be purchased online at http://www.CrownMaple.com.