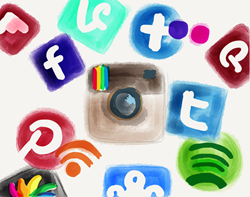 Social Media is rapidly changing - and TAVI aims to be on the cusp of that change
London, UK (PRWEB) January 23, 2017
Turki Almadhi Ventures Inc. has started the new year off with a new focus -- Social Media apps and widgets that connect people globally in an effort to share ideas, culture, customs, and basically to communicate across borders.
Mr. Almadhi himself is no stranger to social media. Back in 2003, he was one of the first adopters of MySpace, had over 500,000 followers and was actively engaged in the social activity that it brought. Fast forward a few years later, he was one of the first in Saudi Arabia to join Facebook. "I am not surprised that this is the way that the cookie has crumbled. Social media is essential in our global economy and our global world. It is necessary to share as much information as possible - and to create an outlet for individuals to enhance those experiences by being creative," commented Mr. Almadhi when he was asked if he saw back then how things would progress.
Turki Almadhi Ventures Inc. is currently invested in Facebook, Snapchat, Twitter, and Whatsapp, and is looking for the "next big thing." Mr. Almadhi knows that the trend is leaning towards video applications that make communicating across borders efficient and accessible to everyone regardless of social status and location.
"I look at my own use of social media, and the amount of time that I personally spend curating engaging content (which by the way changes on a daily basis), and figuring out ways to reach my own audience, not to mention the actual time spent interacting with people - whether they be colleagues, friends or strangers on a daily basis is increasing daily, and at a rapid rate." Mr. Almadhi said when asked about his own social media usage.
Turki Almadhi Ventures Inc is actively looking for the next Facebook, or Snapchat or even Twitter - and is really excited at all of the creative ideas that startups have in this space. What sets these companies apart - and what TAVI specifically is looking for is something exciting, unique, and really out of the box.
The Turki Almadhi Ventures Inc. fund is a privately funded corporation established in 2003 and that is based out of London, UK. For media and press inquiries please contact Elle Jacobs directly at +44 020 3289 1440 or through email at hello(at)turkialmadhi(dot)com. Please visit the website at http://www.turkialmadhi.com for more information.