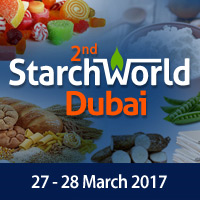 The Middle East – the highest guzzler of food and drinks globally – presents huge opportunities for Starch/Sweeteners market.
Dubai, UAE (PRWEB) February 13, 2017
The Middle East market – the highest guzzler of food and drinks globally – presents huge 'Opportunities in Starch/Sweeteners and Flow of Grains in the Region' – as examined by Simon Bentley, Managing Director, Commoditia. A detailed account of how raw materials (essentially grains) and starch products flow in the region – from EU to North Africa to Mideast to Russia to Central Asia is provided along with key trends in the developing starch markets.
Egypt's prospects in the starch value chain is explored by two local starch producers – Tiba Starch & Glucose Manufacturing presenting on 'Producing Starch and Liquid Glucose from Broken Rice' while Egyptian Starch and Glucose Mfg. Co. shares on 'Egyptian Starch & Sweeteners Market & Key Expansion Plans'. Latest update on its confectionery market in Algeria will be delivered by Ar-kom Project Management. They will be joined by major distributor in the MENA region – Orkila providing specifics on the 'New Range of Specialty Starches for Mideast and North Africa Markets'.
Addressing the 'Iranian Starch Market' will be Sabahi Engineering Tehran Company while Pars khoosheh Pardaz (inviting) is expected to present a paper on 'Wheat Starch & Modified Starch Production in Iran'.
Among notable sessions at the Dubai meet are:

Requirements for Starch from a Food Manufacturer's Perspective (Application of tapioca, potato and corn for our food production) - New Zealand Dairy Products Bangladesh
Valorisation of Starch Side Streams into Biodegradable Plastics - Rodenburg Productie
Growing Consumer Interest in Natural Food Ingredients and Latest Trends - Euromonitor International
Sugar Market in the MENA Region, Comparing Sugar Prices with Those of Imported Corn and What this Means for Starch Processors – LMC International
Innovations and new trends in bakery ingredients – Dulcesol
Organized by Centre for Management Technology (CMT), the summit has Paglierani as Exhibitor.
More details of event is also available on event website or Ms. Huiyan Fu – Tel: +65 63469113.