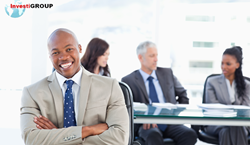 "To me, our focus must be on empowering entrepreneurs to fulfill their dreams and contribute to the world in purposeful ways." ~Dr. Owusu Kizito
Hillside, NJ (PRWEB) January 26, 2017
Since the U.S. JOBS Act passed in September 2013, the larger investment community has been gauging just how much of a factor online investing will make in funding America's premier start up entrepreneurs. The situation is finally clearer as to the real influence funding portals, like http://www.castlepeakfinance.com, will wield.
As of today, accredited investors have an opportunity to invest in Investigroup Management Consultants as the growing firm expands throughout the United States and throughout China. With offices in New Jersey and New York, Investigroup is a full-service business development group, general management, and financial consulting firm, focused on serving small and medium-sized privately-held companies in North America. Their target market is businesses that range from $100,000 to millions in annual revenue.
Accredited investors can view the business plan, pro forma, and all other documents as well as invest at Investigroup's chosen funding portal http://www.castlepeakfinance.com.
Led by the humble and well-spoken Dr. Owusu Kizito, who has appeared on such shows as New York Stock Exchange Media, Investigroup's main goal over the last 15 years has been to co-create one client success story after another, capitalizing on the immense power that comes from creating a viable business out of an entrepreneurial vision. The company assists clients in a variety of business, tax, accounting, and consulting services, including: Cash Flow Management, Bank Financing, Incorporation, Business Valuation, Strategic Business Planning and Succession Planning, and Business Exit Strategies.
Founder and president of Investigroup, Dr. Owusu Kizito, recently commented: "To me, our focus must be on empowering entrepreneurs to fulfill their dreams and contribute to the world in purposeful ways."
Investigroup: The New "Poster Child" for the US JOBS Act Dr. Kizito, known to some as the new "poster child" of the US Jobs Act, continues: "We're delighted to extend an invitation to accredited investors to join us as we forge alliances with China and US business owners as we begin a journey of passion, prosperity, and empowerment for all involved stake-holders."
More about Title II of the U.S. JOBS Act
Entrepreneurial visionaries, like Dr. Kizito, are some of the first real examples of the U.S. JOBS Act in action. Passed back in September 2013, Title II of the JOBS Act championed by President Barack Obama, represented a day of hope for entrepreneurship and early stage finance in the U.S. For the first time in 80 years, private small businesses can raise investment funding online, fueling the startup investment process. Before the JOBS Act, it was illegal for early stage private companies to publicly advertise that they were raising investment. This is called "general solicitation" in the industry. Before 2013, fundraising from the general public was done only by the larger businesses and corporations able to spend the millions to become listed on stock exchanges, such as NASDAQ. With Title II and Title III of the JOBS Act, the U.S. has entered the digital age as part of the largest capital market expansion in recent times.
More about Dr. Owusu A. Kizito, CEO of Investigroup
As the Founder and CEO of Investigroup, Dr. Kizito has a track record of being a dynamic, results-driven leader. He has 20 years of experience in consulting, banking, financial analysis, project management, and process improvement. His book "Lived Experiences Of Home Foreclosures Consequences On Mental and Physical Health." Published by New York City-based Page Publishing and an audiobook version, Dr.Kizito's in-depth research offers solutions to helping those who are going through losing a home.
For media inquiries, please contact Dr. Owusu Kizito by calling okizito(at)investigroup(dot)org or calling 908-977-7320.
Or reach out to Erin Vazquez at Castle Peak Finance by calling 702-940-8005 or emailing at info(at)castlepeakfinance(dot)com
Media Inquiries: Erin Vazquez, Castle Peak Finance
info(at)castlepeakfinance(dot)com, (702) 940 8005
okizito(at)investigroup(dot)org, (908) 977 7320