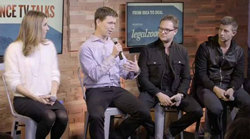 (PRWEB) January 24, 2017
Dunlap Bennett & Ludwig's Founding Partner Tom Dunlap will return to Sundance Film Festival for the second time to speak on a panel in front of a live studio audience on January 25th 2017. The Panel on Challenges in Independent Film discusses the legal and practical issues unique to independent film-makers. The panel will consist of Jack Turner, the producer of Give Me Future: Major Lazer in Cuba, Ferras Fayyad and Steen Johannessen, the director and co-director of Last Men in Aleppo, Laura Dunn, the director of Look and See: A Portrait of Wendell Berry, and Ramona Diaz, the director of Motherland, along with Dunlap, a veteran entertainment attorney, who has practiced in the film industry for more than a decade.
Dunlap has had a lifelong interest in drama and the performing arts. His entertainment experience started in high school plays and continued to college where he took lead roles in campus productions. His career has taken him from those smaller productions to directing a public television program, writing and producing two full length productions, and co-writing a script for a successful Hollywood film production. Since taking this passion to heart in his legal practice, he has helped independent filmmakers with everything from contracts and licensing to intellectual property protection and disputes.
Dunlap has received numerous awards and recognitions throughout his career, including being named one of the Hollywood Reporter's "Power 100" attorneys. Dunlap Bennett & Ludwig is a national firm handling a variety transactions and disputes in finance, entertainment, and intellectual property matters.