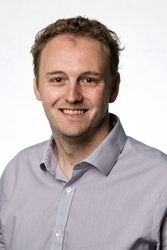 I'm honored to be chosen and couldn't be more excited to join the accomplished and respected EXLRT team.
Washington, DC (PRWEB) January 23, 2017
In support of its successful global expansion, Netherlands-based customer experience technology agency EXLRT is excited to announce that Karl Johnson has been named Managing Director of US operations.
Johnson, who most recently lead Washington, DC based customer experience agency, experienceDigital as Managing Director, will report to Marc Vieleers, global CEO of EXLRT.
Vieleers shared "Karl's technological background, combined with his entrepreneurial skills, make him the ideal managing director for our US operation. As we are already servicing several US customers, we are now able to build on those existing relationships with a local presence while we continue to grow our US footprint."
Effective immediately, Johnson will assume responsibility for all commercial and operational activities in the US market as well as oversee the growing team. Johnson will be responsible for the alignment and prioritization of US office investments while ensuring operational and customer service excellence across the office and the company.
"I'm honored to be chosen and couldn't be more excited to join the accomplished and respected EXLRT team. The US market offers immense opportunities for growth as transforming large enterprises all aspire to deliver phenomenal, personalized customer experiences (CX) over digital. Very few technology agencies are as well positioned as EXLRT to make that happen," Johnson said.
Over his more than 16-year career, Johnson has held technology and consulting leadership roles with Microsoft, Booz Allen, and Accenture. He has also held senior executive roles as CTO of big data SaaS firm Venga and as SVP of Technology for customer experience agency Tahzoo Worldwide.
ABOUT EXLRT
EXLRT is a digital technology agency based in The Netherlands, USA and Serbia. Our mission is to help large enterprises transform their digital marketing strategies into effective customer experiences by applying the best technology foundation from platforms such as SDL Web, Sitecore, Kentico and ADAM.