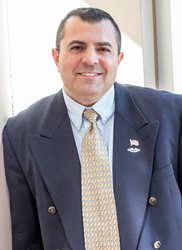 Our focus is directed on quick response time in conjunction with quality customer service to act as our clients' virtual IT department.
Worcester, MA (PRWEB) January 24, 2017
Readers of the central Massachusetts region's definitive source for business news, Worcester Business Journal (WBJ), have chosen Machado Consulting as the "Best IT Services" in the newspaper's 4th annual Best of Business Awards.
This is the first time Machado Consulting has won this award, and Machado garnered 50 percent more votes than the second-place IT Services, according to WBJ Editor Brad Kane. There were 44 categories, and 1,800 responses.
The chief focus of Machado Consulting is maximizing technology for small to medium-sized businesses allowing the focus to remain on every day business activities.
Worcester Business Journal attracts a readership audience of business decision-makers who are managing businesses large and small. More than 90 percent of its readers are the senior executives in their organization. In addition to being the key decision-makers in their organizations, WBJ readers are also well educated and highly affluent.
"For the first three years of the Best of Business Awards, the Best IT Services category has always been extremely competitive, with winners only besting the competition by a handful of votes. That was not the case this year, where Machado Consulting was the overwhelming favorite among WBJ readers," said WBJ Editor Brad Kane. "It appears Machado's speed in responding to client demands and technical expertise really resonate with the Central Massachusetts business community."
The recognition by the WBJ and its readership underscores Machado Consulting's vision statement to be the premier IT services company for Worcester.
"We are pleased to accept Worcester Business Journal's recognition of being The Best IT Services for the year 2017. This award speaks volumes to our commitment to excellence in the fast paced, ever-expanding industry of Information Technology. We would like to thank our clients for making this a reality and look forward to continuing down this path for many years to come. Machado Consulting has been working extremely hard to provide top notch IT Managed Services to the SMB Market throughout Massachusetts and New England region. Our focus is directed on quick response time in conjunction with quality customer service to act as our clients' virtual IT department. This way, owners can focus on running their business opposed to worrying about their technology environment", states Helder Machado, CEO.
Many veterans have used the discipline and leadership taught in the Armed Forces to become successful business owners. Lieutenant Colonal (LTC) Helder Machado is one of them. Machado Consulting is a Veteran Owned Small-Business (VSOB) under the leadership of LTC Helder Machado. The values gained from LTC Machado's military experience has blended in with the company which in turn has allowed the company to thrive into the award-winning company it is today. LTC Helder Machado is also active duty for the Army National Guard, serving as one of the two commanders in a training battalion. He has also served honorable in Operation Desert Storm.
The Worcester Business Journal award comes on the heels of Machado Consulting's recognition as one of CRN's 2016 top Managed Service Providers in the country. Machado Consulting's managed service offerings provide companies the full range of technology support they need for one low, fixed monthly rate. For the fraction of the cost of an in-house IT department companies have a trusted partner, ensuring their IT infrastructure is proactively managed by a TEAM of Network Engineers and professionals. IT issues keeping you up at night and impacting your business? Let Machado Consulting take them off your hands so you can put your focus where it belongs. Growing your business.
Machado Consulting and other category winners will be honored Jan. 26 at WBJ's 4th annual Best of Business Awards event at the Beechwood Hotel in Worcester.
About Machado Consulting
Machado Consulting specializes in industry-specific technology solutions for small and medium-sized businesses. Collectively, the team has expertise in services such as servers, virtual servers, VoIP solutions, web development and internet marketing while working with reputable brands such as Microsoft, HP, Dell, Digium, Cisco among others. More information can be found on our website.
Media Contact
Russ Almstrom
Business Development Manager
Machado Consulting
More Than Your IT Department.
Worcester, Mass.
Email: ralmstrom(at)machadoconsulting(dot)com
Connect
Please find us on our website, Facebook, Twitter and LinkedIn pages.