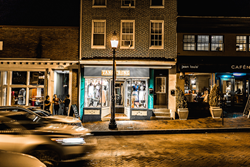 Five forces have the potential to redefine the retail industry radically
New York, NY (PRWEB) January 31, 2017
According to the National Retail Federation, retails sales over October, November, and December 2016 rose 4% over the same period last year. But the rosy numbers hide a deeper transformation underway in the retail industry.
E-commerce retailers like Amazon.com enjoyed an 11% rise in sales over 2016 while sales brick-and-mortar outlines (e.g., Macy's, JC Penny) dropped by almost 6%, according to a separate government report. Nearly all major traditional retailers (Macy's, Kohl's Corp., J.C. Penney and Sears Holdings Corp) reported a drop in holiday sales. Macy's has announced it plans to close 100 stores and cut over 10,000 jobs. Sears is planning to close 150.
What we are experiencing is the culmination of five forces with the potential to redefine the retail industry radically.
Outthinker (http://www.outthinker.com), a growth strategy consulting firm serving retailers, apparel firms, and consumer products companies, recently released findings from its study of the future of retail (http://outthinker.com/2016/10/05/futureofretail/). It shows five fundamental shifts, driving my new technologies and business concepts, are underway with the potential redefine the retail industry's structure. Businesses that are embracing these trends such as Amazon.com, and to a lesser extent Wal-Mart, are growing. Those resisting are contracting.
Five trends:
1. From large producers and brands to niche
2. Radically shorter design-to-deliver times
3. Toward zero inventory
4. From stores to platforms
5. From products to services
From large producers and brands to niche
As in most industries, the cost of entry and cost of scale is coming down. One no longer has to invest hundreds of millions of dollars in a factory to produce a unique item. Instead you can rent access to the tools you need. For a low monthly fee, small inventors can get access to TechShop, a national member-based chain of community workshops filled with industrial-grade machines, to produce small batches of what they need. Companies like Edison Nation help small inventors get quickly to market. They accept inventions then set their teams of patent-experts, industrial designers, and marketers to efficiently test and bring product to market, giving the inventor 50% of sales. GE Appliance has established a FirstBuild program, which gives investors access to a laboratory filled with 3D printers and manufacturing and design equipment to design innovative appliances. GE brings promising new appliances to market and the inventor gets a significant share of the profit.
Lowering production costs – 3D printing costs are dropping exponentially – and easier access to shared fixed production assets are providing inventors, once relegated to drafting tables and pitch books, keys to the manufacturing floor.
Niche producers are starting to flourish. Their prevalence is accelerating because of other trends shaping retail.
Radically shorter design-to-deliver times
Most fashion retailers persist with the seasonal cycle. They attempt to predict trends months ahead, showcase next season's design on runways, and let customers wait until the products can be produced and delivered. But wait time is being radically chopped down at every link of the chain.
Zara has for decades now been blatantly disrupting its traditional retail competitors through a production and logistics process that enables it to replenish store inventories in weeks rather than seasons. Even though innumerable Harvard Business Review cases and feature-length articles have been written about it, traditional retailers remain unmoved. But what we are witnessing now goes even further than Zara's model.
The most radical shift challenges the whole nature of design. It's been assumed that you design, produce, then sell. But in some cases, the sequence is flipping. You can now sell before you design or produce. Crowdfunding platforms like Kickstarter and its many copycats enable niche producers to sell ahead of demand.
Amazon.com does this. They produce single episodes of shows, pilot them to the public, and only produce those that attract viewers. But the company is doing so much more to shrink design to delivery time:
Amazon's "Consume the City" (an unofficial internal codename) has the company investing billions to get within close delivery range of customers. It has purchased 40 Boeing 767s and now operates 70 shipping centers across 21 states. Forty-four percent of the US population is now within 20 miles of an Amazon.com shipping center. In 2010 only 5% were. Prompted initially by new regulations (pushed for by its retail competitors) that removed the tax benefit Amazon.com initially had by shipping from Washington to other states, Amazon.com has come out of its shell and is now aiming to get you what you want within a day.
To further shorten the time lag, Amazon has launched a series of devices to make ordering instantaneous. "Dash Buttons" fixed to washing machines allow you to order washing detergent with the press of your finger. The Amazon Echo talking tower in your living room listens 24-7 to add whatever you need to your shopping list. The ever more efficient Amazon.com app allows you to scan barcodes or images of product covers and place them immediately into your shopping cart.
But why stop there? Amazon's (and other online retailers') algorithms grow ever more effective at predicting your needs. Indeed, com's predictive ambitions were highlighted last year when it filed a patent for shipping a product before it is ordered.
The Internet of Things (IoT) has the potential to even further compress design-to-deliver times.
Toward zero inventory
Retailers live and die on their inventory turns. Even a short reduction in the inventory you need to operate can have a multiplier effect on the price investors will place on your stock. So it's no surprise smart, forward-thinking people are working on ways to reduce inventory. What is surprising is how far they have come.
Drop shipping, in which online retailers take orders and pass them to producers who ship the goods directly, is becoming the norm. 3D printing and other inexpensive on-demand production technologies are allowing retailers to produce only what they need when they need it.
New models like that of Alton Lane are finding ways to thrive unshackled by the drag of inventory. The company produces high-end men's clothes custom, on demand, from fabric its vendors provide on consignment. Alton Lane does not pay for the fabric until it uses it.
Such approaches need not depend on technology. Costco, arguably one of the most successful retailers of the last five years, thrives by not paying for its inventory until after it's sold. While most businesses have to inject new cash to feed growth, Costco's growth works in reverse. The faster it grows, the more cash it produces.
From stores to platforms
Stores serve fundamentally one purpose. They convene and concentrate customers to make it economical to sell and deliver goods. But we now have new ways to do so.
Zaycon Foods, for example, sells meat from a parking lot. If you want to buy a large quantity of fresh, straight-from-the farm beef or chicken, you log onto zayconfresh.com to state your interest. When enough people in your area also express interest, the company organizes an "event" nearby. You place your order and on the appointed day drive to a designated parking lot. Hundreds of cars will pass through on that day. The company runs events in over a thousand locations throughout the US. No need for a supermarket. Because the company cuts out several middle-men, they can provide high-quality meat at a radically lower price.
Of course we know of the higher-tech approaches like eBay or Craigslist that allow individuals and small niche producers to efficiently access large masses of buyers. Etsy and other more flashy platforms allow individual craftspeople and inventors to access volumes of buyers that department stores and large retailers previously had a monopoly on providing. As Michael Porter would say, supplier power is growing as producers' dependency on stores decreases.
The results of this are more profound than simply opening up new channels. They support even more focused niche producers than before. John Hagel at Deloitte points out that as music moved from record stores to platforms like iTunes, we saw proliferation of niche genres. This is why of the 50 best-selling albums of all time, none have been produced since the 1990s. When platforms were introduced, producers with niche appeal could assemble global markets, appealing to small pockets of dispersed buyers. Platforms then will continue to drive us toward specialized, niche brands and products.
From products to services
This all leads us to the most radical shift of all. If we think of a product – a T-shirt or device – as a bundle of attributes customers will pay for, we see that bundle disaggregating. You buy something because a designer came up with an appealing design, a curator put it in front of you, and a store (or platform) delivered it. Today you can buy each element of this bundle separately.
Outthinker sees a proliferation of subscription services like Blue Apron, which provides a steady flow of recipes and groceries, Dollar Shave Club (sold recently for $1b to Unilever), which provides continual access to sharp razors, and Quarterly, which provides a box of goods curated by people you care about like Tim Ferriss or Arianna Huffington. One consumer products company we worked with realized that instead of selling pet food they could create a subscription service providing a bundle of services – food, community, toys – for your pet.
Designs and products have been inseparably linked. But they are starting to unravel. Pinshape, for example, is a marketplace for 3D designs. Instead of buying a new iPhone case or drone, you can download the design and print it yourself.
When Manu Prakash, a biology professor at Stanford business school, wanted to get affordable telescopes to schools in impoverished parts of the developing world, he realized the answer was to separate design from manufacturing. Schools can download a design, print it on A4 paper, and assemble it for less than $1.
These trends mirror those we see in other industries. Lay them over each other and you see a radically different future comes into focus. What if the next piece of clothing you buy, you purchase from a niche brand, one creative genius working from a rented workshop? What if you order it before it's manufactured and it's delivered the next day, never sitting in a warehouse? What if you purchase through a platform rather than a store, and instead of just buying the shirt, you get access to a flow of clothing curated to match your unique lifestyle or access to the designs to "print" them on your own?
This future may seem far off. But so did driverless cars, Uber-like ride-sharing offerings, and affordable drones just a few years ago.