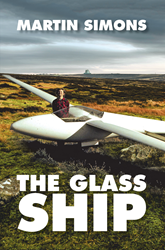 VICTORIA, Australia (PRWEB) January 23, 2017
Author Martin Simons has published his latest novel, "The Glass Ship," a fictional story that follows the adventures of a teenage girl named Mitch and her passion for the sport of soaring.
Mitch forms a fast friendship with another sailplane pilot named Peter as they bond over their enjoyment of the sport. The story includes detailed knowledge about flying gliders as Simons himself was also an avid participant in the sport.
Simons hopes to encourage and inspire more women to take up soaring when they read the adventure tale and feel the joy the female lead Mitch has when she is in her glider.
"I thought it time someone wrote a novel about modern gliding and my story might encourage more women to take up this sport," said Simons. "Women are just as good as men in the sport of soaring. It has its dangers, but is safe if commonsense precautions are taken."
In recent years, while continuing to fly and write nonfiction, Simons has written three very unusual novels including "The Glass Ship," "Jenny Rat," and "Cities at Sea." To learn more information about Simons and his additional novels and writings, please visit his website at http://www.martinsimons.com.au.
"The Glass Ship"
By Martin Simons
ISBN: 978-1-5144-4449-8 (Softcover), 978-1-5144-4448-1 (eBook)
Available at Amazon and the Xlibris Bookstore
About the author
Martin Simons was born in Derbyshire, England, in 1930. After national service in the RAF, he trained as a teacher at Borough Road and Goldsmiths Colleges. While teaching full-time, in the evenings he studied geography with ancillary geology at Birkbeck College, London University. He graduated with first-class honors in 1959 and subsequently became a university lecturer in London and Adelaide. He completed master's degrees in education and in philosophy. He has had lifelong interests in education, philosophy, aeronautics, especially the sport of gliding, and has written extensively about these and other subjects. In 1954, he married Jean, and they have two daughters, Patricia and Margaret. The family moved to Adelaide in 1968. After fifty happy years, Jean died of pancreatic cancer in 2005. Since then, he has lived alone in suburban Melbourne, but remains fully engaged with his writing and other activities.
For Review Copies & General Inquiries Contact:
LAVIDGE – Phoenix
Lauren Dickerson
ldickerson(at)lavidge(dot)com
480-998-2600