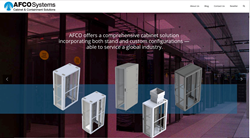 Farmingdale, New York (PRWEB) January 23, 2017
For companies looking to achieve greater business efficiency, AFCO Systems emphasizes LEAN manufacturing, a process that strives to reduce or eliminate waste. Since the company puts a high priority on helping its clients become more efficient, every hire is a "quality assurance inspector" who contributes to new ideas for creating enhanced quality processes that cut costs.
We are proud to announce the following new members to the AFCO team.
Rich Filonuk joins the inside sales department. He will be responsible for managing transactional sales for small and medium business clients. Rick DePalma is a sales account executive who will focus on design/build construction and contractors. William Chung will serve as sales engineer for the Western USA. Aram Ovasian is a new customer service representative. Eddie Gleason will fill a new role as Sales Manager, EU.
All the new hires will report to John Consoli, who rejoins AFCO Systems as Vice President of Sales and Marketing after spending six years working in the DCIM market. Consoli was VP of Global Sales for AFCO Systems from 2000-2008.
"It is great to be back at AFCO Systems. It feels like coming home. I will be working side by side with our CEO, Mike Mallia and the rest of the senior management team to guide AFCO Systems towards re-establishing our prominence in the Data Center Industry. The financial crash of 2008 set us back a bit, but we are back stronger than ever. Lean, mean and ready to roll.", said Consoli.
About AFCO Systems
Founded in 1971 by the company, which holds numerous patents, has pioneered cutting edge designs that accommodate cabling, cooling, power, integration services and on-site end-user usability challenges and requirements. Its core areas of focus are customer service, engineering, innovation and manufacturing. AFCO Systems is based in Farmingdale, New York in its 100,000sq ft manufacturing facility. In an effort to support the expanding EU market, AFCO has expanded to an additional 100,000 sq ft facility in Galway, Ireland where Eddie Gleason is based.