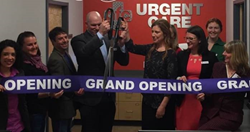 Bedford, MA (PRWEB) January 24, 2017
American Family Care (AFC) has opened a new 4,000+ square foot state-of-the-art urgent care facility in Bedford, expanding access to high-quality health care for residents in the area. The Bedford clinic will be the nineteenth location opened by AFC in Massachusetts and the fourth location opened during the past four years by Dave Adams and Dr. Kristina Orio. Adams and Orio also independently own and operate AFC clinics in Waltham, Burlington and Stoneham, each of which is licensed by the Massachusetts Department of Public Health and accredited by the Urgent Care Association of America (UCAOA).
During the past 34 years, AFC has pioneered the concept of non-emergency room urgent care. Each AFC clinic features a high-tech, high-touch approach – including digital x-rays, on-site lab testing, state of the art diagnostics, and electronic medical records. The clinics are staffed by well-trained, compassionate health care professionals, resulting in high rates of patient satisfaction.
"We are excited to offer quality urgent care to Bedford and the surrounding communities. AFC has a strong history of expanding access to quality care and investing in the communities it serves. We look forward to providing immediate access to care, so our patients can get the treatment they need and get back to their routines," said Dave Adams, president of AFC Urgent Care Bedford.
The Bedford clinic is located off of Great Road in the Bedford Marketplace plaza, adjacent to the Whole Foods supermarket. It offers urgent care seven days a week from 8am to 8pm with no appointments necessary. Care will be available for non-critical conditions like strep throat, sprains, strains, lacerations and the flu, among others.
AFC Urgent Care Bedford provides 8 private exam rooms along with onsite x-ray and lab services. Most insurances are accepted with a copay typically under $25. The Bedford clinic will be the corporate headquarters for its surrounding locations and will help serve the 250,000 Massachusetts residents AFC treats annually.
About American Family Care (AFC):
Founded by Dr. Bruce Irwin with a single location in 1982, American Family Care has pioneered the concept of non-emergency room urgent care. With its 2013 acquisition of the Doctors Express, AFC has become the nation's leading provider of urgent care, accessible primary care, and occupational medicine, with more than 170 clinics and 500 in-network physicians caring for 2 million patients a year. Ranked by Inc. Magazine as one of the fastest growing companies in the U.S., AFC's stated mission is to provide the best healthcare possible, in a kind and caring environment, while respecting the rights of all patients, in an economical manner, at times and locations convenient to the patient. For more information, visit http://www.AFCUrgentCare.com.