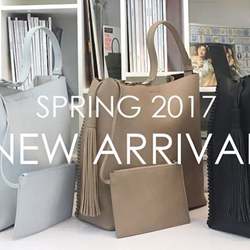 Los Angeles, CA (PRWEB) January 24, 2017
88-Eighty Eight will be featuring their latest Spring 2017 collection on the Fancy.com online retail website. Shoppers can "Fancy" (similar to "liking" or "pinning") 88's handbags and even share them with friends or add them to wish lists. This platform also makes it easy for customers to quickly click and buy or to learn more about 88-Eighty Eight as a brand.
About Fancy:
Fancy.com is a new online retailer that has taken the retail world by storm. This new site is tapping into the new wave of "social shopping", seeing what your friends on Twitter and Facebook are interested in. They describe themselves as "part store, part magazine, part wish list". Fancy allows you to "Fancy" items ("like" them) and gives you credit whenever you share with friends. The Fancy app also allows you to see what your friends like and also see recommendations on products. There are thousands of stores and millions of items. Fancy is available on desktop, smartphone, tablet and even Apple Watch versions. Fancy is available in 33 languages so far, making it a global shopping community.
More about 88-Eighty Eight:
88-Eighty Eight is a vegan brand, which means no animal products are used in the making of their bags. The founder of the brand is a life-long vegetarian, who believes that the environment would benefit from a reduction in factory farming. Various vegan leathers are used in production. The scientific names are PU (polyurethane) and PVC (polyvinylchloride). It may be more expensive than the alternative, but 88 only uses PU in creating their bags since it is better for the environment. 88 develops all of their own custom hardware. Just like the vegan leather, they focus on using the best options for the environment, which may not necessarily be the cheapest option.
All of their suppliers are certified, compliant for human rights and ensure the existence of good working conditions. They are proud of the relationships they have formed with their suppliers, most of whom they have worked with for years and whom are considered part of the 88 family. 88 has a quality assurance team on site at the supplier every day, inspecting all aspects of production from materials to in-line production. This ensures that they are truly proud of every item that they ship out.
Another great thing about 88-Eighty Eight is that they donate a percentage of every sale to a charity that assists in educating women around the world. They believe that educating women is the key to a better world. They are also starting a new campaign that will allow them to partner with different Vegan organizations to connect their brand's message with their charitable mission.
The number "88" is the number of constellations in the sky. Shuttle mission 88 started construction of the international space station finished in 1988. In ham radio "88" is the sign-off that means love and kisses. "88" is considered the luckiest number in Chinese culture as it sounds like "word for wealth". The snake swallowing its own tail is an ancient Egyptian symbol for the self-sustaining, self-contained universe. "88" represents the cycle of creation and recreation.
To learn more about 88-Eighty Eight Handbags, go to: http://www.88-eightyeight.com
You may also visit their social media pages, listed below:
Instagram: @88.eightyeight
Twitter: @88_handbags
Blog: https://88fashionblog.wordpress.com
Fancy: https://fancy.com/shop/team88
For more information, please contact: Tosha Clemens at (818) 427-1449, PR(at)88-eightyeight(dot)com