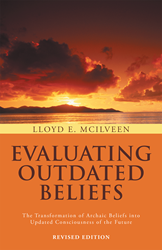 PHOENIX (PRWEB) January 23, 2017
Author Lloyd E. McIlveen is an advocate for spiritual reform and presents a spiritual transformation focused on consciousness, openness, and inclusion in his new book, "Evaluating Outdated Beliefs: The Transformation of Archaic Beliefs into Updated Consciousness of the Future."
This 256-page book revolves around the history of religions and various manners of ongoing spiritual consciousness. Chapters include views of belief origin, methods, meaning in believing, human insecurities, and the formation of Deity and Divinity.
McIlveen also explores views in hypocrisy, psychology of belief, praying, programming, and belief options. The title accurately describes the book as it explores outdated beliefs, faith, and the author's personal view of religion.
The first three-quarters of the book focuses on problems of religion and believers while the last quarter examines new and open possibilities in spirituality; which is to focus on building spiritual consciousness within, not in someone or something else.
McIlveen used a thoughtful process in examining the topic of religion. He has explored a belief system that is fading into a more efficient and self-reliant determination of its own. The focus is on a new type of spirituality which has been evolving for many years and allows the reader to utilize the best spiritual practices for new strength and security of mind.
"The position of mankind accepting responsibility for their own destiny has become more of a valid base for believing than a hypothetical Supreme Being which was an accumulation of superstitious, wishful, fearful, needy and man-made ideas that formed a nebulous-like array of worship, sacrifice and unsure devotion," said McIlveen.
Although he dissects aging religious philosophy, he does not fully detail how spiritual growth transcends the outdated mind-sets of belief because it is fascinatingly controversial for those who desire newly dated manners of believing.
"Evaluating Outdated Beliefs"
By Lloyd E. McIlveen
ISBN: 978-1-4669-9395-2
Available online at Amazon and Barnes & Noble
About the author
Lloyd E. McIlveen is an accomplished author having currently written 24 books with various subjects presenting controversial, educational, uplifting, futuristic, self-helping, philosophical, psychological, entertaining, and other stimulating concepts. The list of his published books is growing and will continue to grow.
For review copies and general inquires contact:
LAVIDGE – Phoenix
ldickerson(at)lavidge(dot)com
480-998-2600