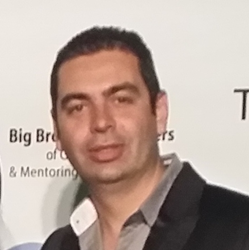 "By leveraging state of the art machine learning and artificial intelligence technologies USARAD is well positioned to continue its global leading position and will accelerate to affordably bring high quality healthcare around the world" explained Michael
FORT LAUDERDALE, Fl (PRWEB) January 23, 2017
USARAD Holdings Inc., a leading US Joint Commission Accredited venture-backed teleradiology and telemedicine company announces significant growth last year adding 65 new US and international facilities to its client base. Some notable US customers include Veterans Authority and US Army medical centers as well as one of US largest imaging center chains. USARAD continued its global expansion strategy and has added multiple new international hospital customers from multiple countries such as Singapore and Saudi Arabia. Its SecondOpinions.com® division also experienced continued growth globally, to date providing service to consumers and business customers in over 80 countries.
The company predicts an accelerated growth in 2017 and introduces additional efficiencies into its practice to deal with potential physician supply challenges. United States and many other parts of the world are experiencing a greater than ever shortage of qualified expert physicians, including radiologists. For example, the shortage of radiologists in USA became especially acute over the past 6 months. Therefore, to sustain its growth, USARAD will be deploying existing and new artificial intelligence algorithms developed jointly with its partners. USARAD's goal is to utilize unique computer assisted technology to significantly augment its physician's capabilities.
"By leveraging deep learning and artificial intelligence technologies USARAD is well positioned to continue its global leading position and will accelerate its quest to affordably bring high quality healthcare around the world," explained Michael Yuz, M.D. MBA, CEO and founder of USARAD Holdings Inc." Dr Yuz is considered to be both the leading expert physician and serial entrepreneur in the field of Artificial Intelligence who has helped develop the algorithms as well as invested into health-related AI platforms since 2005. He added, "We are indeed very fortunate that Radiology and AI have collided and in fact, they will soon be inseparable. Furthermore, USARAD is in a very unique position since not only are we able to develop and perfect these AI algorithms, but we are also able to immediately integrate them into our production, workflows and day to day practice."
About USARAD Holding Inc. including SecondOpinions.com®
USARAD Holdings, Inc. is a global telemedicine company consisting of two operating divisions – USARAD and SecondOpinions.com®. USARAD is a radiology services provider offering interpretations of a full range of sub-specialty and general radiology patient studies. With an existing advanced technology network connecting medical facilities to board-certified radiologists and support staff, USARAD offers radiology services in all 50 states as well as more than 15 countries. Via its unique Radiology-On-Demand® platform, USARAD is committed to providing timely and responsive image review 24/7. SecondOpinions.com® is a medical consultation and second opinions leader providing health care customers, physicians and consumers with expert opinions from all medical specialties and sub-specialties.
SecondOpinions.com®, which currently conducts business in more than 80 countries, also contracts with insurance companies, corporations, and medical centers of excellence. USARAD has recently received funding from the Venture Capital Unit of Siemens, Omphalos Venture Partners and Excelerate Health Ventures. For more information please visit http://www.usarad.com and http://www.secondopinions.com. The company will be exhibiting at HIMSS and American Telemedicine Association conference in Orlando Feb 19-23 and April 23-25 respectively.
MEDIA CONTACT:
Carrin Harris
+1 888-886-5238 x99
info(at)secondopinions.com