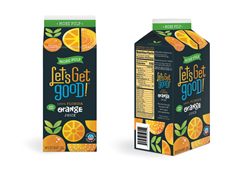 Marketers should use the new FDA rules regarding nutritional labeling as an opportunity to overhaul their package designs.
San Francisco, California (PRWEB) January 23, 2017
By now, every food and beverage brand manager knows that new FDA rules regarding nutritional labeling kick in this coming July on brands over $10 million in annual sales. On the surface it all seems pretty straightforward. The new nutritional panel will have a bolder, highlighted calorie count, which now appears even larger than the Nutrition Facts header. And there's a newly introduced requirement for companies to list added sugars and to revise serving sizes.
"The goal is to better reflect what people are actually eating and drinking in one sitting," says Mike Goefft, DDW Managing Director. On sodas, serving sizes will go from 8 to 12 ounces, and ice cream will increase from 1/2 cup per serving to 2/3 cup. The new rules have caused some head spinning at the Sugar Association and the beverage industry. And consumers will have to get used to the reality of all the calories they've been unknowingly consuming.
Ross Patrick, Executive Creative Director at DDW says, "Overall the new guidelines are not only a welcome change from a health advocacy standpoint, but also a marketing opportunity for brands. Many of our clients are taking this a step further to not only comply with the FDA, but make some long overdue improvements to their packaging and label designs."
"After all," says Patrick, "adjusting nutritional labels means creating new packaging art. And if you're going to do that, why not seize the opportunity to refresh all sides of your package? There's still time."
About DDW  
DDW (http://www.ddw.com) is a San Francisco based design firm with 20+ years' experience helping clients create deep brand stories and fresh brand design. Current clients include Anheuser-Busch, Alcatel, Big Heart Pet Brands, Campbell's, Energizer, Sprint, Seattle's Best Coffee, The Men's Wearhouse, and The Non-GMO Project and several other undisclosed assignments.