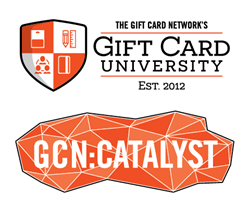 "This year is going to be amazing. GCU and Catalyst are breaking down the doors of business as usual." Desiree Wiercyski, GCN Marketing and Communications Manager
Vancouver, WA (PRWEB) January 31, 2017
Gift Card University is an original educational event that the Gift Card Network debuted in 2016. GCU attendees receive a structured and in-depth understanding of the components of a successful merchant gift card program. This interactive two-day event is open to anyone looking to become a Gift Card Geek and be more effective at running, supporting, or selling products into these types of programs. Veteran industry members of the Gift Card Network are vetted to become professors of the subjects critical for gift card program success, and speak about their own experience and provide advice.
In addition to Gift Card 101 education, a new, 202 track will be launched, focusing on deeper, focused subjects for more advanced attendees, bringing new perspectives to these essential concepts. This year, GCU will be hosted by Hotels.com and Raise and take place May 16-17 in Chicago, IL.
Debuting the day after GCU, is a new event, GCN: Catalyst.
GCN:Catalyst is an original event for 2017. This summit is the place for interactive innovation between industry veterans and new Gift Card Geeks. The Catalyst experience is designed to merge these two groups for maximum learning and collaborative discussion about the future of gift cards and branded currency. Attendees will learn about how emerging technologies and products interact with gift card, and discuss and project how these technologies will change the face of gifting and branded currency. Collaborative sessions will provide attendees with real-world examples to explore and identify how the future could better incorporate gift card functionality to help consumers and businesses in more dynamic ways. GCN:Catalyst is hosted by Hotels.com and Raise and take place May 18 in Chicago, IL.
"We're excited about adding the more in-depth classes to GCU, adding a new level of education, and expanding our 101 classes based on our successes last year. As for Catalyst, this is the kind of event we've been talking to our members about for a while, and we have some really fun and interesting plans for it. Co-locating GCU and Catalyst allows us to give the benefit of education to those who need it, while allowing industry veterans to get access to the fresh ideas and energy from newer people, and work together on building the future of gift. We're excited to launch Catalyst to the industry in the interactive and engaging way that only GCN can, and bring fresh ideas and fun to our members." said Matt Davies, GCN founder.
The Gift Card Network constantly seeks to raise the bar of gift card industry learning and networking experiences, and these events will be no different.
About the Gift Card Network
The Gift Card Network is the home of everything gift card, the only gift card focused media and collaboration network in the world, and a unique organization where Gift Card Geeks can grow and network. Members gain a large number of benefits, such as presence in GCN's various publications, access to educational content, collaborative, and networking events. Any company can join the Gift Card Network to learn about gift cards and interact with other members to help form the future of the gift card industry. Find out more at http://www.thegiftcardnetwork.com