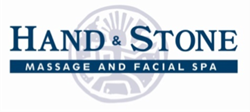 Trevose, Pa. (PRWEB) January 23, 2017
As Americans' investment in healthy lifestyles continues to grow, Hand & Stone Massage and Facial Spa has experienced mirrored growth throughout the country. Hand & Stone, a leader in providing affordable and convenient expert massage, facials and wax-free hair removal services, is proud to celebrate 2016 as a banner year, with 52 new locations including five in previously untapped major markets, the celebration of its 300th spa opening and a nationwide increase of its member base by 38 percent. Now in its 10th year of franchising, the brand is poised for another record year of growth in 2017.
"Our rapid expansion validates our mission of delivering high quality massage and facial services to customers at a more affordable price and with more convenience." says Hand & Stone CEO Todd Leff. "Our outstanding franchisees, the passion of our therapists and staff combined with our full menu of options for massage and facials have positioned Hand & Stone to continue growing quicker than we ever could have imagined."
Founded in 2004, Hand & Stone experienced its largest growth in 2016. Hand & Stone achieved $250 million in system wide sales, up from $182 million in 2015, driven by new locations and an average 21.5 percent comparable sales increase for existing locations. The brand currently has more than 100 additional franchises in development and in 2017, expects to open 65 new locations across the U.S. and Canada, including plans to enter three to five new markets.
"The growth that Hand & Stone has seen since we first started franchising makes it very clear that this concept is flourishing and the service is necessary," says Bob McQuillan, Vice President of Franchise Development. "We have high expectations that we'll continue growing rapidly across the country and continue to satisfy the needs of the communities we service."
With a centralized focus on elevated customer satisfaction and offering a bevy of service options, Hand & Stone meets a proven demand in the spa industry. And Hand & Stone has no plans to slow down. As technology becomes more of a necessity in the industry, the brand is launching a new website in February, which will make online booking easier and more mobile friendly. New facial services, such as LED Skin Phototherapy, are being rolled out across the country this year with support from Dermalogica and Clarity RX. Additionally, at every new location moving forward, the brand is rolling out a spa interior redesign, focusing on creating a quiet, spa-like environment to improve the customer experience.
"We are thrilled at the opportunity to make our affordable healthy lifestyle services available to even more people as we continuing entering new markets this year," said Leff. "I'm incredibly proud of the growth our team has achieved over the last 10 years, and we all look forward to making spa services easier and more affordable for everyone, relieving the stress of countless people in 2017."
ABOUT HAND & STONE
Hand & Stone is a 300-plus unit massage and facial spa with a mission to bring massage and facial services to the masses. Launched in 2004 by a passionate physical therapist, John Marco and now led by franchise veteran Todd Leff, Hand & Stone now has locations in 28 states and Canada. For more information on Hand & Stone, visit http://www.handandstone.com