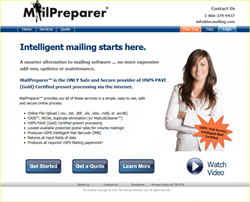 Our value to mailers is removing complexity and expense by leveraging modern technology that happens to be cloud-based
Madison WI (PRWEB) January 24, 2017
TEC Mailing Solutions LLC receives the first certification for online postal processing through the United States Postal Service for their MailPreparer® portal (http://www.MailPreparer.com). The certification is the result of extensive testing by the United States Postal Service® and allows users to be confident recommended solutions meet stringent "full service" requirements to receive "the best pricing on automation discounts."
The USPS® has maintained a list of certified on-premise Full-Service software solutions since 2013. Market demand for affordable easy to use solutions sparked the creation of this new category, specifically for cloud-based solutions geared toward small to medium mailers. MailPreparer allows users to overcome these common challenges:

Cost: Cloud-based solutions are commonly available as pay as you go or subscription based. No additional expense for palletization, de-duplication, and all classes of mail unlike typical on premise software.
Ease of Use: MailPreparer has a modern interface that is intuitive and easy to learn
Availability: MailPreparer can be used on any device: PC, MAC, Linux, Android, etc. and anywhere a wifi or internet connection can be obtained
Maintenance: MailPreparer is centrally managed and always up to date, there is no need for a user to perform mandatory monthly updates
Return mail/deliverability issues: MailPreparer utilizes enterprise CASS® and Presort engines costing tens of thousands that increase delivery performance versus entry grade on premise software.
Support: MailPreparer job details and data files are available to support technicians to provide unparalleled assistance
Compliance: PAF management is fully electronic and managed by TEC Mailing Solutions to maintain Postal Acknowledgment Forms for the required 6 year period
"This is a real game changer," explained Brian Euclide, President of TEC Mailing Solutions. "Our value to mailers is removing complexity and expense by leveraging modern technology that happens to be cloud-based. We license data quality and presort engines from top tier software solutions and deliver functionality with intuitive user interfaces. TEC's solutions are more affordable than entry-level on-premise postal software and produce a much better work product so less first-class mail gets returned. Less standard mail ends up in the land fill which is an aspect many smaller mailers don't think about."
Users of on-premise postal software in the $1500- $3000 price range that mail less than two million pieces of mail a month are encouraged to evaluate the recommended USPS cloud-based solutions. Better delivery performance allows the USPS and clients alike to keep postal costs in check. A list of certified cloud-based solutions is available at: https://postalpro.usps.com/node/248 or by contacting TEC Mailing Solutions.
About: TEC Mailing Solutions LLC, is a Software as a Service (SaaS) provider of name, address hygiene and bulk mail sortation services for web-to-print, CRM, ERP, and variable digital printing solutions. TEC's services are consumed as embedded functions in applications to improve workflow or standalone web portals: MailListCleaner®, MailPreparer™ and MailPieceTracker™; available direct or through a network of resell/referral partners and VARs. Privately held, the corporate office is located in Sun Prairie, Wisconsin with locations in Illinois and Virginia. More information can be found at: http://www.tecmailing.com or call 866-379-9437.