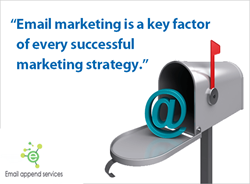 Data is your most valuable marketing asset – if it's properly understood and used
california (PRWEB) January 23, 2017
Info data place LLC chose Emailappend.services to empower their clients to enjoy the benefits of multiple marketing efforts. Emailappend.Services Data appending platform and multi-channel campaigns will enhance the experience of the customers, which will improve the retention rate.
With this alliance, Infodataplace LLC plans to provide platforms that are more effective for its clients. They will use the quality and updated database along with the tools of Emailappend.services for the members from different sectors, which will further increase the responsiveness of their organization.
The team uses the latest modern technologies for constructing the most advanced Email Address List considering the sustaining as well as the brand new data formats. The collaboration with Emailappend.services will work towards this objective of the organization by providing the best of data append, email list and email campaigns according to industry-specific measures.
Infodataplace CEO George Joseph says that they are happy to choose Emailappend.services and confident that their solutions and latest marketing tools will ease the process to carry out multi-marketing efforts. "With Email Marketing List, exclusive market data and extensive mailing list growth products, we provide the information segmented to aim our member's outreach and retention," he adds.
Creating effective campaigns is the primary objective of this organization. They develop new strategies to get the best responses from the customers, which includes developing receptive mobile email, landing pages, and newsletters. They also conduct spam filter testing to ensure that the customers get genuine resources for the ultimate benefit of their business.
With Infodataplace LLC choosing Emailappend.services for enhancing their data and improving multi-channel marketing efforts, it is expected that the business owners will be the ultimate winner.
About Info Data Place
Info Data Place provides Multi-channel marketing leads and data appending services according to industry specific requirements. They cover more than 89 industries under the business sector. They obtain data from 350 new business sources.
About Emailappend.services
Email append services is the provider of B2B Data and email appending services. They have access to an extensive mailing list with proprietary market knowledge and latest marketing technologies that help to increase the reach of the customers. To know more visit this link http://www.emailappend.services/