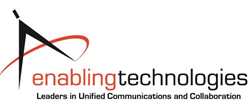 "Don't overlook the organizational change component. Leveraging Enabling Technologies' "Lights, Camera, Adoption!" program was the best decision we made. It's even more important than the configuration...
Bonita Springs, FL (PRWEB) January 23, 2017
Enabling Technologies Corp, Microsoft's 4-time Partner of the Year recipient, has been awarded the Skype Operations Framework certification. The certification is awarded to Microsoft partners who excel in customer engagements involving Skype for Business and Cloud PBX.
"Enabling Technologies has been doing communications integrations since the very beginning with Microsoft Live Communications Server and Exchange 2007 Unified Messaging," says Bill Vollerthum, President of Enabling Technologies. "We have done over 1500 Unified Communications projects over our 25-year heritage and have always used proven methodologies for a successful and predictable outcome. Microsoft has gone one step further in creating the Skype Operation Framework with best practices and processes that will augment our current methodologies to provide the best systems integrations for our clients."
Simultaneously, Enabling is announcing three new Cloud services, providing either a la carte or turnkey services to customers interested in Cloud PBX:
1. Cloud Discovery - intended for organizations new to Skype or the Office 365 cloud, Enabling assesses and recommends a roadmap to success
2. Cloud Voice Extender - intended for organizations already using Office 365, but who seek hands-on assistance to move from an on-premises PBX and to Cloud PBX voice online
3. Cloud Care – intended for organizations using Cloud PBX who would rather concentrate on their business while Enabling manages the communications environment
As part of Enabling's Cloud Discovery, Cloud Voice Extender and Cloud Care offers, Enabling employs its award winning "Lights, Camera, Adoption" themed Change Management program. Using Enabling's adoption experts, we ignite viral adoption of Office 365 and Skype applications throughout the deployment: Planning, Deployment, Adoption and Operation. Customer Don Bender (CIO at GAI Consultants) said of the program, "Don't overlook the organizational change component. Leveraging Enabling Technologies' "Lights, Camera, Adoption!" program was the best decision we made. It's even more important than the configuration...not only getting buy in from executive management, but also from the entire company, because it's something that changes the way they work."
To view Enabling's Cloud offers visit: http://www.enablingtechcorp.com/Solutions/MoveittotheCloud!.aspx
About Enabling Technologies:
Enabling Technologies is the leading Systems integrator of Microsoft Office 365 solutions. Enabling has 24 years of messaging and real-time communications experience and over 1500 deployments of Microsoft Skype for Business/Lync, Exchange and Exchange Unified Messaging and Office 365. Enabling's tried-and-true processes have helped customers minimize risk, maximize existing investments, and optimize the end-user UC experience. Enabling takes an all-inclusive approach to projects, mastering the technical components while also optimizing the people and process side to technology rollouts. We specialize in Cloud solutions including Office 365 and hybrid migrations. Having Enabling design, implement, and proactively monitor your Office 365 and Skype for Business systems is the first step to changing the way your workforce thinks about communications, for the better. If your projects involve replacing or integrating Skype/Office 365 or Exchange UM to an existing phone system, count on Enabling's expertise in integrating to Cisco, Avaya, Nortel, Siemens, and smaller-scale phone systems. Once you've made the move to Skype UC, we can take you to the next level by providing Apps to integrate Skype with your back office business applications and provide a 24x7 in-house help desk support team for all UC services. Enabling Technologies' staff is comprised of seasoned, certified IT professionals who work with a range of next-generation technologies and are capable of recommending and implementing the "right solution" for our customers. As validation, Enabling Technologies, a four time recipient of the Microsoft Partner of the Year award, has provided professional services and solutions to organizations of various sizes from such diverse industries as government, legal, financial, pharmaceutical, manufacturing and medical.
For additional information:
Elle Vollerthum - 443.625.5112 evollerthum(at)enablingtechcorp(dot)com