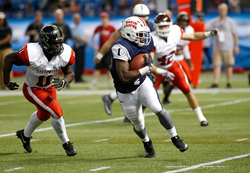 St. Petersburg, Fla. (PRWEB) January 21, 2017
In a defensive affair that ended with the West all-stars beating the East squad 10-3, there were two individual performances that stood above the rest.
The E. Jack Spaulding Award for Most Outstanding Defensive Player was awarded to defensive end Trey Hendrickson (Florida Atlantic). Hendrickson, playing for the East all-stars, registered a quarterback sack, a forced fumble and a quarterback hurry in a game full of defensive highlights from both teams.
West running back Eli McGuire (Louisiana Lafayette) piled up 42 yards rushing on just 7 carries, including a dramatic 18-yard scamper that resulted in the game's only touchdown, earning The William H. Coffman Award for Most Outstanding Offensive Player.
The game was played in front of a crowd of 22,198 inside Tropicana Field and was broadcast nationally on the NFL Network.
About the Most Outstanding Player Award Namesakes: E. Jack Spaulding was a captain in the U.S. Navy and was one of the organizers of the first East-West Shrine Game.  William H. Coffman was the managing director of the East-West Shrine Game for 40 years.
About the East-West Shrine Game:
Originating in 1925, the East-West Shrine Game is the longest-running college all-star football game in the country and features some of the highest-rated players in the projected NFL draft ranking. While the teams are divided by East and West, the players come together for the beneficiary of the event, Shriners Hospitals for Children.
About Shriners Hospitals for Children:
Shriners Hospitals for Children is changing lives every day through innovative pediatric specialty care, world-class research and outstanding medical education. The 22 facilities in the United States, Canada and Mexico provide advanced care for children with orthopaedic conditions, burns, spinal cord injuries, and cleft lip and palate.
Shriners Hospitals for Children is a 501(c)(3) nonprofit organization and relies on the generosity of donors. All donations are tax deductible to the fullest extent permitted by law. To learn more about Shriners Hospitals for Children, please visit http://www.shrinershospitalsforchildren.org..