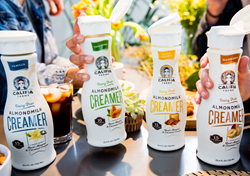 ..at Califia Farms, we are constantly innovating to ensure that consumers can go plant-powered and live dairy-free without ever compromising taste.
San Francisco, CA (PRWEB) January 23, 2017
Califia Farms leapt ahead in 2016 achieving 77% sales growth across all channels and the number one sales position for its Almondmilks and ready-to-drink Cold Brew Coffees in Natural according to SPINS data(1). Continuing on a dramatic upward trajectory, sales of Califia's innovative nut milk creamers grew 138% in 2016 making them the fastest growing non-dairy creamer brand in the refrigerator case(2). This trend is set to continue with the introduction of a new 750ml creamer bottle design in Califia's signature curvy form at the Specialty Food Association's Winter Fancy Food Show today.
Califia Farms' innovative packaging design has already won multiple awards(3), helping to spark the plant-powered beverage revolution in the dairy case. With the new creamer bottle, the company aims to continue its leadership in revolutionizing the non-dairy creamer category, just as it drove change and growth in the nut milk category.
"Unlike anything else in the market, our new creamer bottle signals to consumers that they are about to have a 'Califia' experience – meaning delicious, premium, plant-powered, clean labeled – and pleasing to both the eye and the palate," said Califia Farms CEO and Founder Greg Steltenpohl. "Plus, it gives retailers a fresh way to appeal to their health-conscious and millennial-minded customers, while also helping the millions of Americans who put cream in their coffee move away from the unhealthy artificially flavored, oil-based non-dairy creamers of the past."
Each of Califia Farms' creamer flavors – Unsweetened, Vanilla, Hazelnut and Pecan Caramel – will come in the new 750ml curvy, grippable PET bottle, designed with a spout that solves the problem of drippage and over/under pouring that comes with less precise packaging formats. A real win for consumers seeking to create that perfect cup of coffee. And, like all Califia products, the creamers are Non-GMO Project Verified, Vegan, BPA Free, Carrageenan Free, Gluten Free, and Kosher.
"Consumers are increasingly turning to Califia Farms over other brands when it comes to choosing the dairy-free beverage that is right for them," continued Steltenpohl. "We believe that moving the needle in the direction of a plant-based food supply is something that benefits us all – and, at Califia Farms, we are constantly innovating to ensure that consumers can go plant-powered and live dairy-free without ever compromising taste."
Since its introduction in 2011, sales of Califia Farms' Almondmilk have grown rapidly, helping drive overall growth in the nut milk category, while its delicious artisan recipe and distinctive carafe also helped pioneer the premiumization of the non-dairy refrigerated case. As the company has expanded its plant-powered innovations into cold brew coffees and creamers, it has consistently achieved double-digit YOY revenue growth.
Expanding along with the growing demand for Califia Farms' plant-based creamers and milks is overall consumer adoption of non-dairy milks, and the decline in consumption of dairy milk. According to Mintel, non-dairy penetration is exploding, with household penetration growing from 27.3% in 2013, to 55% in 2016(4) and the Almondmilk category projected to grow 36% by 2020, while dairy milk sales are projected to decline 8% by 2020.(5)
About Califia Farms (pronounced "Cal-ah-FEE-yuh")
Founded in 2010 and headed by beverage visionary Greg Steltenpohl, Los Angeles-based Califia Farms is one of the fastest-growing natural beverage companies in the U.S. The company is leading the way in the plant-based food and beverage revolution, creating innovative, healthy and great-tasting premium beverages that make it easy for consumers to go 'plant-powered' and live dairy-free, without compromise. The company also leads the next wave of coffee innovation and is the best-selling cold brew coffee brand in the natural channel. In 2015, Califia Farms was named "Brand of the Year" by BevNet, and a "Breakout Brand" by Beverage World.
Join the conversation with @CalifiaFarms on Facebook, Twitter, Instagram and Snapchat.
Califia Farms Media Relations
mWEBB Communications
Melanie Webber, (424) 603-4340, melanie(at)mwebbcom(dot)com
(1) SPINS/IRI 52 weeks ending 12/25/16
(2) SPINS/IRI 52 weeks ending 12/25/16 all channels combined
(3)"Top 10 Challenger Brand" by consultancy firm Seurat Group for its unique bottle that is reshaping today's dairy case. Top honors in Beverage World's 2015 Global Packaging Design Award. Cleanest Packaged Foods award from Prevention Magazine.
(4) 2013 Data: Milk, Creamers and Non Dairy Milk Mintel Report US April 2014; 2016 Data: Dairy and Non-Dairy Milk: Spotlight on Non-Dairy Mintel Report US April 2016)
MINTEL DAIRY & NON-DAIRY MILK US - APRIL 2016
(5) MINTEL DAIRY & NON-DAIRY MILK US - APRIL 2016