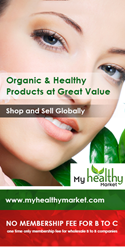 "Whenever you are creating beauty around you, you are restoring your own soul" ~ Alice Walker
Arizona, Show Low (PRWEB) January 24, 2017
My Healthy Market is a new Internet global selling and shopping platform focused on the best organic health and food products, environmentally friendly items, natural health organic foods and vitamin supplements. This selling platform allows anybody to join and sell products online to the worldwide market. It offers a wide range of categories and thousands of diverse organic products for sale directly from the website. From organic unique tooth paste by "Krista's Natural Product" to the fantastic purifying water shungite minerals from the other side of the world. Many home and life improving products are sold in quantity (6 or 12) to save on customers' favorite brands and enjoy them longer. Like Costco, where many of shoppers' favorite brands can be purchased in large quantities, My Healthy Market offers various products, either singly or in quantity. Additionally, My Healthy Market is inviting businesses to offer products to other businesses domestically and globally.
This company was founded by an elementary school teacher from Show Low, Arizona. As teachers are exposed to many pathogens and stressors, the idea of improving health and life style came naturally. My Healthy Market's long term goal is to generate enough revenue to help schools in need, particularly the ones that are located in the remote areas. They often have needs in basic and critically important items that would benefit children in their learning environments. As a teacher who has walked into classrooms lacking basic technological and literacy supporting items for children, the idea of designing a company came to help support these schools. The goal is to generate enough income to help with closing such gaps. A happy and effective educational environment lies at the very foundation of this business.
My Healthy Market is dedicated to and open to anybody around the world willing to change one's life for the better and help children to learn at school. Please, get involved in supporting these endeavors and become part of something great and beautiful, with long lasting effects made on a new generation.
Please join My Healthy Market to sell or shop globally and to promote a healthier and better life style for others. Please visit at https://www.myhealthymarket.com/ Please contact the company at info(at)myhealthymarket.com 888-591-5556